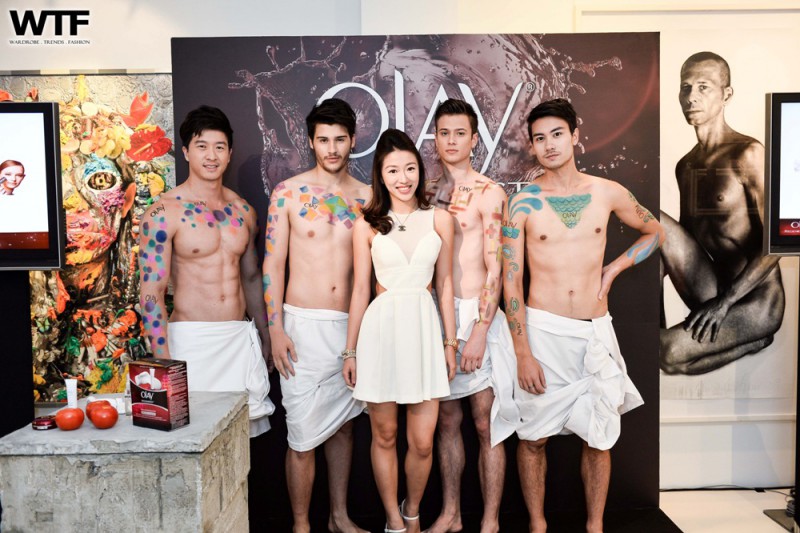 OLAY turns up the heat with the launch of it's first-ever cleansing device – the Olay Regenerist Advanced Cleansing System, bringing to life the efficacy of the powerful gentle cleansing.
Olay just got sexier with it's male models posing topples, in body paint to further illustrate the magic of the Olay Regenerist Advanced Cleansing System during the launch last month.
This clever cleansing system is designed to provide daily, professional skin cleansing that gently exfoliates to reveal brighter, smoother skin with each use. Shown to cleanse four times better than basic cleansing, the cleansing device's micro-massaging action cleanses deep and gently exfoliates skin to effectively prepare it for your anti-ageing routine.
Tried, tested and proven by dermatologists and real women, the Olay Regenerist Advanced Cleansing System serves to powerfully remove long-lasting, smudge-proof make up, while still staying soft and gentle on the skin. The two speed rotating system consists of a brush-head that revolves at 350 times per minutes, reaching the skin's contours where fingers cannot reach to gently lift and remove dirt and dead skin from the surface, allowing for a clean, gentle rinse.
Olay Regenerist advanced cleansing system will be available from August 2013 in most leading departmental stores and pharmacies where Olay products are sold.
Retail Price : SD$49.90
Replaceable brush heads are sold separately at SD$11.90each
Some of the personalities spotted at the event include the topless model, Jason Chee, and Rachel Lim. Check out the photos of the event launch below.