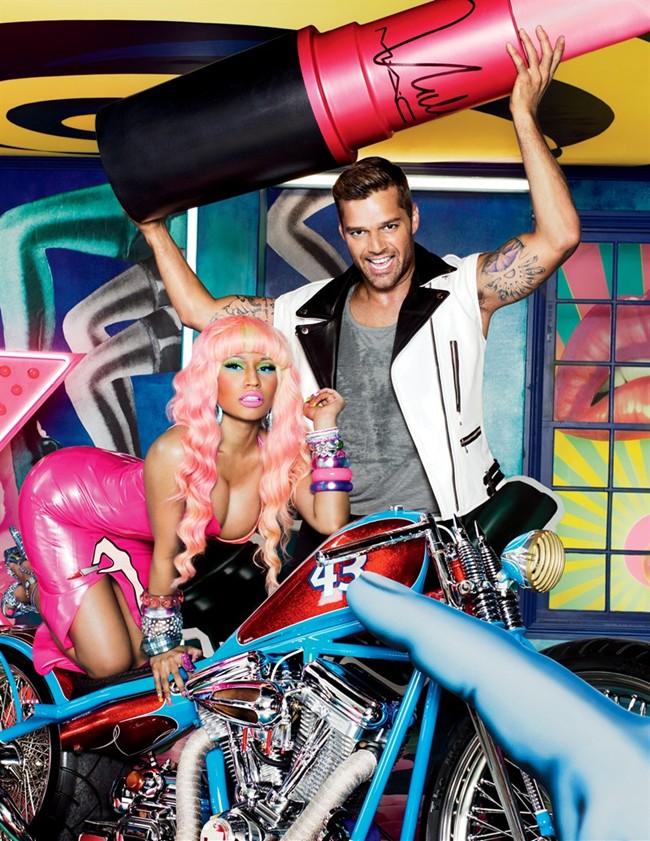 Superstars to the rescue: Nicki Minaj and Ricky Martin have joined forces to fight AIDS in M.A.C.'s annual Viva Glam campaign. Here's the first promo image for the lip products. Shot and directed by David LaChapelle, the graffiti-strewn, neon bright promo aims to highlight awareness of the disease among the duo's younger fans.
Nicki Minaj's satin lipstick, "Bright Yellow Pink," is a hot bubblegum hue that is in keeping with the female rapper's flamboyant, in-your-face image. Speaking at an interview on Good Morning America, the born-in-Trinidad Nicki said of her commitment to the project: "This is something that is killing a lot of young black women. And so for me, that is why it hits home."
"I have such a young fan base. I want them to start now, you know, protecting themselves. I want to start now being smart. I want them to abstain because I love them so much. I don't want them to ruin their lives."
Meanwhile, Ricky Martin's untinted offering is a unisex version of the cosmetic house's signature lip conditioner. Said the Latin pop superstar: "Kids are being infected with HIV and AIDS. Some people think that this is an issue of the 80's. The fact is that it's a disease that doesn't discriminate: men, women and children are being affected by this virus. Let's talk about it. I want to be part of this."
Every dime from the proceeds of the Viva Glam line will go towards the M.A.C. AIDS Fund, which has raised over US$235 million for HIV and AIDS programs world-wide since its inception in 1994.
The Nicki and Ricky Viva Glam products are available starting March 2012 through February 2013, so head over to your nearest M.A.C. counter next month to grab a pair or three for charity. Bonus: watch behind-the-scenes footage of the two pop stars vamping it up for the campaign shoot below.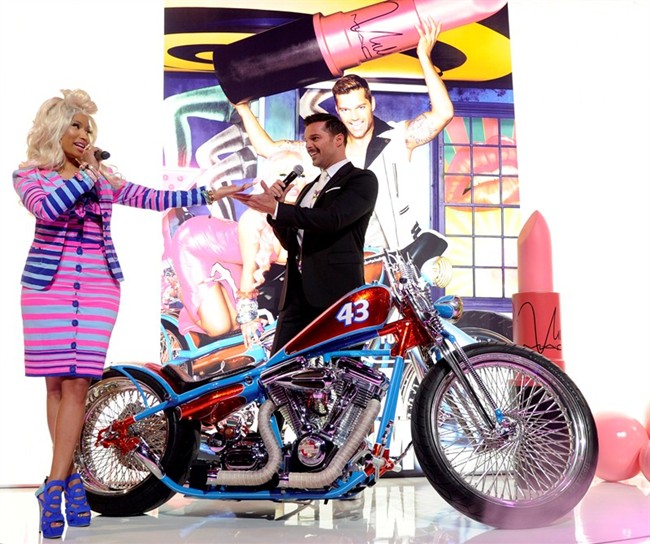 Nicki Minaj and Ricky Martin at the Viva Glam launch on Feb 15 at Stage 37 in New York City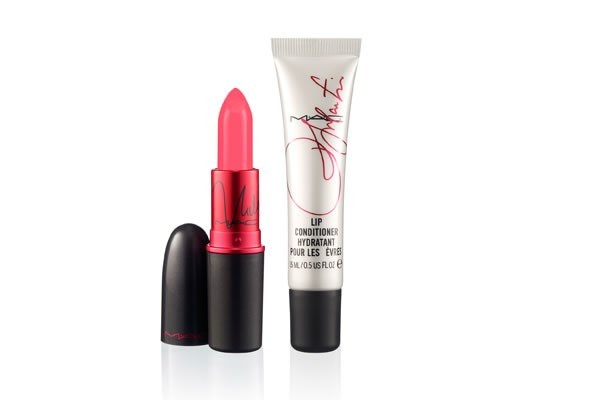 Viva Glam Nicki, "Bright Yellow Pink", and Viva Glam Ricky, Clear Lip Conditioner