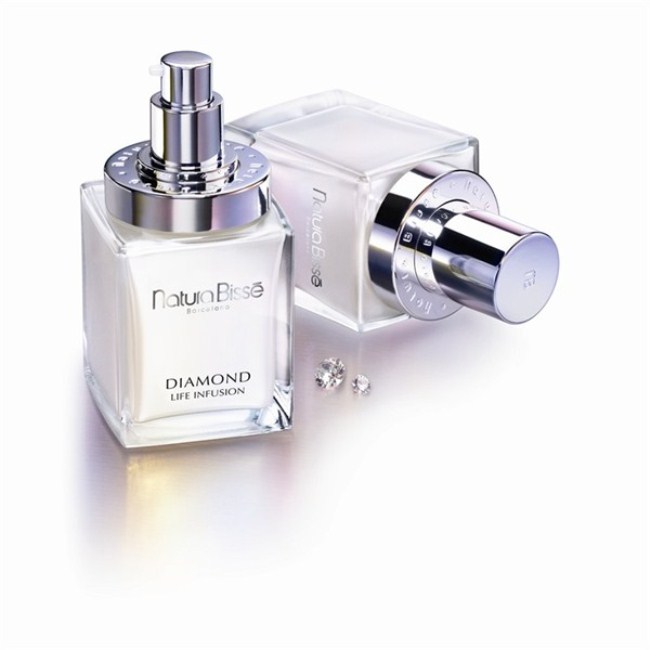 All beauty aficionados know that good serum is the key to unlocking the fountain of youth. To this end, Natura Bissé has launched Diamond Life Infusion, a pioneering serum with skin regenerating properties for an ever-youthful complexion.
Formulated with 16 active ingredients, including Bio-Magnet Nanosomes, a powerful patent-pending beauty tool inspired by the medical field, Diamond Life Infusion stems from Natura Bisse's collaboration with the scientific team at the University of Munich to pursue the use of natural magnetite in cosmetics.
Bio-Magnet Nanosomes provide a retinoid-like effect on skin, thus stimulating the cellular renewal process, improving skin tone and texture and restoring luminosity. Retinoids are a class of chemical compounds used in medicine to regulate cell proliferation and differentiation.
Boosted by this potent new ingredient, Diamond Life Infusion is a luxurious and rejuvenating night-time treatment that has been proven to diminish signs of skin aging in women over 30. "The new luxury is measured by the appearance of your skin," says Patricia Fisas, Natura Bisse senior vice-president of marketing.
The state-of-the-art serum regulates the four skin age biomarkers that are indicators of one's skin age. Proteox Complex stimulates the skin's antioxidant properties to reduce the amount of free radicals; TelomerylShield maintains biologically youthful skin; Progerin Reducer Complex and Bio-Magnet Nanosomes ensure the level of proteins necessary for skin regeneration and reduce the percentage of damaged cells; and C-Niche Protector Peptide and Bio-Magnet Nanosomes stimulate stem cells and their renewal capabilities.
Get yours at Pacific Place in Hong Kong.