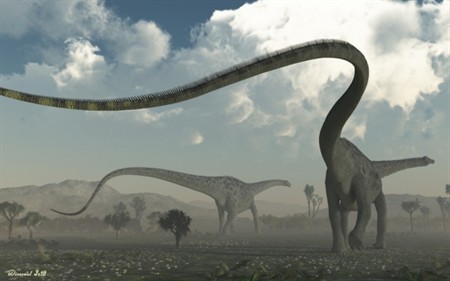 Artist's rendering of the Diplodocid sauropods, the dinosaurs at the center of the controversy
Seems like Singapore has no shortage of generous, deep-pocketed personalities: by the skin of their prehistoric teeth, a last minute multi-million dollar gift by an anonymous donor has secured three huge dinosaur fossils, which are set to get star billing at the Lee Kong Chian Natural History Museum when it opens in 2014.
The three dinosaur fossils – two adults 24m in length each and a 12m long baby – are diplodocid sauropods, among the biggest animals to walk the earth.
The dino skeletons almost didn't make it to Singapore shores, after the Raffles Museum of Biodiversity Research failed to cough up the asking price of S$8 million by the July 31 deadline set by the sellers, the Wyoming-based Dinosauria International.
The nigh-hopeless situation – the museum had only managed to secure just a quarter of the funding required for the sale – was turned around dramatically last weekend, when a prominent Singaporean flew the sellers into Singapore for a meeting.
The meeting, said to have lasted several hours and which no doubt was fraught with tension, ended with an agreement: the mystery Singaporean would donate an amount that, coupled with available funds, would be acceptable to the sellers. The agreement was sealed in ink the very next morning.
Singaporeans curious to know what the fuss is about may not have to wait till 2014, the slated date of the museum's opening, to get a look at the dino bones. The dinosaurs may be exhibited to raise further funds for the institution – they now have to garner another $2 million to mount the massive fossils.
For donations to the dino exhibit, head over here.
(Source: ST)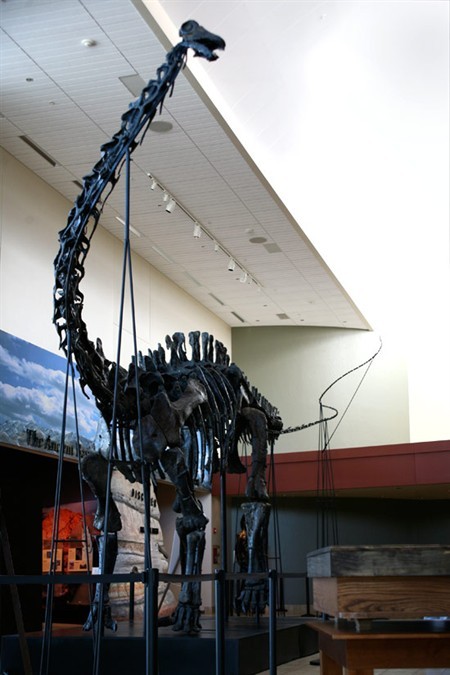 Apollo, one of the adult fossils that will be showcased in Singapore