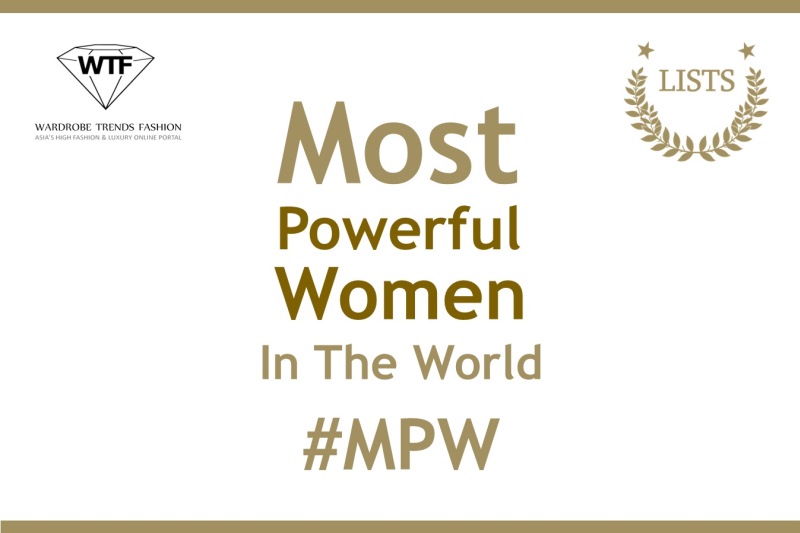 From politics to business, women are breaking barriers and burying old stereotypes. German Chancellor Angela Merkel has topped our list of the 100 Most Powerful Women in the world 2016, followed by the former Secretary of State, Hillary Clinton.
Melinda Gates, co-chairman of the Bill & Melinda Gates Foundation, takes the No. 3 slot on the list, in order: Janet Yellen, chair of the US Federal Reserve, and Christine Lagarde, the head of the International Monetary Fund, among others.
Here below is our list of the most powerful women in the world today – the definitive guide to the extraordinary female icons, ceiling crashers, and game changers.
We've got our eye on these Powerful Women. You should, too.
—————————————————————————-
#MPW #MPW2016
—————————————————————————-
Most powerful women in the world, 2016
| Rank | Name | Country | About |
| --- | --- | --- | --- |
| 1 | Angela Merkel | Germany | German Chancellor |
| 2 | Hillary Clinton | United States | Former Secretary of State |
| 3 | Melinda Gates | United States | Co-chairman of the Bill & Melinda Gates Foundation |
| 4 | Janet Yellen | United States | Chair of the US Federal Reserve |
| 5 | Christine Lagarde | France | Head of the International Monetary Fund |
| 6 | Theresa May | United Kingdom | Prime Minister of the United Kingdom |
| 7 | Mary Barra | United States | CEO & Chairman, GM |
| 8 | Sheryl Sandberg | United States | COO, Facebook |
| 9 | Meg Whitman | United States | CEO & President, Hewlett Packard Enterprise |
| 10 | Susan Wojcicki | United States | CEO, YouTube |
| 11 | Park Geun-hye | South Korea | President of South Korea |
| 12 | Ginni Rometty | United States | CEO, Chairman, and President, IBM |
| 13 | Ana Patricia Botín | Spain | Executive chairman of Santander Group |
| 14 | Angela Ahrendts | United States | SVP, Retail and Online Stores at Apple Inc |
| 15 | Abigail Johnson | United States | CEO and President at Fidelity Investments |
| 16 | Michelle Obama | United States | First Lady of United States |
| 17 | Indra Nooyi | United States | CEO and Chairman, PepsiCo |
| 18 | Michelle Bachelet | Chile | President of Chile |
| 19 | Federica Mogherini | Italy | EU foreign affairs chief |
| 20 | Tsai Ing-wen | Taiwan | President of the Republic of China (Taiwan) |
| 21 | Safra Catz | United States | Co-CEO at Oracle |
| 22 | Marillyn Hewson | United States | CEO, Chairman, and President at Lockheed Martin |
| 23 | Helen Clark | New Zealand | Administrator of the United Nations Development Programme |
| 24 | Oprah Winfrey | United States | Talk show host |
| 25 | Arundhati Bhattacharya | India | Managing director of the State Bank of India |
| 26 | Ruth Porat | United States | CFO, Google and Alphabet |
| 27 | Anna Wintour | United States | Vogue editor |
| 28 | Aung San Suu Kyi | Myanmar | Foreign Affairs Minister of Myanmar |
| 29 | Ho Ching | Singapore | Chief Executive Officer of Temasek Holdings |
| 30 | Adena Friedman | United States | President of NASDAQ |
| 31 | Irene Rosenfeld | United States | CEO and Chairman at Mondelez International |
| 32 | Queen Elizabeth II | United Kingdom | Queen of the UK, Canada, Australia, and New Zealand, and Head of the Commonwealth |
| 33 | Ursula Burns | United States | CEO and Chairman at Xerox |
| 34 | Lucy Peng | China | CEO, Ant Financial Services, Alibaba Group, Co founder of Alibaba Group |
| 35 | Loretta Lynch | United States | Attorney General of the United States |
| 36 | Sri Mulyani Indrawati | Indonesia | Indonesian economist |
| 37 | Chanda Kochhar | India | Director-general of the World Health Organization |
| 38 | Margaret Chan | China | Director-general of the World Health Organization |
| 39 | Pollyanna Chu | Hong Kong | Billionaire businesswoman |
| 40 | Drew Gilpin Faust | United States | President of Harvard University |
| 41 | Sheikh Hasina Wajed | Bangladesh | Prime Minister of Bangladesh |
| 42 | Amy Hood | United States | CFO and EVP at Microsoft |
| 43 | Sheikha Lubna Al Qasimi | UAE | UAE's Minister of State for Tolerance |
| 44 | Samantha Power | United States | United States Ambassador to the United Nations |
| 45 | Beth Comstock | United States | Vice Chair at General Electric |
| 46 | Bonnie Hammer | United States | Chair, NBCUniversal Cable Entertainment Group at Comcast |
| 47 | Laurene Powell Jobs | United States | Business woman and known as widow of Apple founder Steve Jobs |
| 48 | Ertharin Cousin | United States | Executive Director of the World Food Programme |
| 49 | Gina Rinehart | Australia | Mining magnate & Australia's richest woman |
| 50 | Dana Walden | United States | Chief Executive Officer of Fox Broadcasting Company |
| 51 | Kolinda Grabar-Kitarović | Croatia | President of Croatia |
| 52 | Phebe Novakovic | United States | CEO and Chairman at General Dynamics |
| 53 | Nicola Sturgeon | Scotland | First Minister of Scotland |
| 54 | Elvira Sakhipzadovna Nabiullina | Russia | Tatar born-Russian economist and head of the Central Bank of Russia |
| 55 | Marissa Mayer | United States | Yahoo President and CEO |
| 56 | Rosalind Brewer | United States | CEO and President, Sam's Club at Walmart |
| 57 | Bidya Devi Bhandari | Nepal | President of Nepal |
| 58 | Nemat (Minouche) Shafik | United Kingdom | Deputy Governor of the Bank of England |
| 59 | Güler Sabanci | Turkey | Chairman and managing director of Sabancı Holding |
| 60 | Susan Cameron | United States | CEO and President at Reynolds American |
| 61 | Mary Erdoes | United States | CEO, JPM Asset Management at JPMorgan Chase |
| 62 | Nguyen Thi Phuong Thao | Vietnam | President & CEO of VietJet Air |
| 63 | Peng Liyuan | China | Wife of the President of China Xi Jinping also referred to as the "Chinese First Lady" |
| 64 | Zhou Qunfei | Hong Kong | Founder and CEO of Lens Technology |
| 65 | Dong Mingzhu | China | President of Gree Electric |
| 66 | Lubna S. Olayan | Saudi Arabia | Saudi business woman |
| 67 | Katharine Viner | United Kingdom | Editor-in-Chief at The Guardian |
| 68 | Feng Ying Wang | China | CEO of Great Wall Motor Company |
| 69 | Donna Langley | United Kingdom | Chairman of Universal Pictures |
| 70 | Diane von Furstenberg | United States | Fashion designer |
| 71 | Tory Burch | United States | Fashion designer |
| 72 | Kiran Mazumdar-Shaw | India | Chairman and managing director of Biocon Limited |
| 73 | Miuccia Prada | Italy | Fashion designer |
| 74 | Zanny Minton Beddoes | United Kingdom | Editor-in-Chief for The Economist |
| 75 | Arianna Huffington | United States | Co-founder, Huffington Post |
| 76 | Dalia Grybauskaitė | Lithuania | President of Lithuania |
| 77 | Mary Jo White | United States | Chair of the Securities and Exchange Commission |
| 78 | Kaci Kullmann Five | Norway | Norwegian businessperson |
| 79 | Gwynne Shotwell | United States | President and Chief operating officer of SpaceX |
| 80 | Judy Faulkner | United States | CEO and founder of Epic Systems |
| 81 | Fabiola Gianotti | Italy | CERN's Director General |
| 82 | Folorunsho Alakija | Nigeria | Nigerian businesswoman |
| 83 | Solina Chau | Hong Kong | Businesswoman |
| 84 | Lynn Good | United States | CEO, Chairman, and President at Duke Energy |
| 85 | Heather Bresch | United States | CEO at Mylan |
| 86 | Irina Bokova | Bulgaria | Director-General of UNESCO |
| 87 | Eliza Manningham-Buller | United States | Director General of MI5 |
| 88 | Sara Blakely | United States | Founder of Spanx |
| 89 | Mary Meeker | United States | Venture capitalist |
| 90 | Ellen Johnson-Sirleaf | Liberia | President of Liberia |
| 91 | Shobhana Bhartia | India | Editorial Director of the Hindustan Times Group |
| 92 | Shikha Sharma | India | Managing Director & CEO of Axis Bank |
| 93 | Debra Cafaro | United States | Chief Executive Officer of Ventas |
| 94 | Risa Lavizzo-Mourey | United States | CEO of the Robert Wood Johnson Foundation |
| 95 | Lee Boo-Jin | South Korea | Businesswoman and eldest daughter of Samsung Group Chairman |
| 96 | Raja Easa Al Gurg | United States | Managing Director of the Easa Saleh Al Gurg Group |
| 97 | Beth Brooke-Marciniak | United States | Global Vice Chair of Public Policy for EY |
| 98 | Greta Van Susteren | United States | Television news anchor |
| 99 | Jenny Lee | Singapore | Managing Partner, GGV Capital |
| 100 | Ameenah Gurib-Fakim | Mauritius | President, Mauritius |