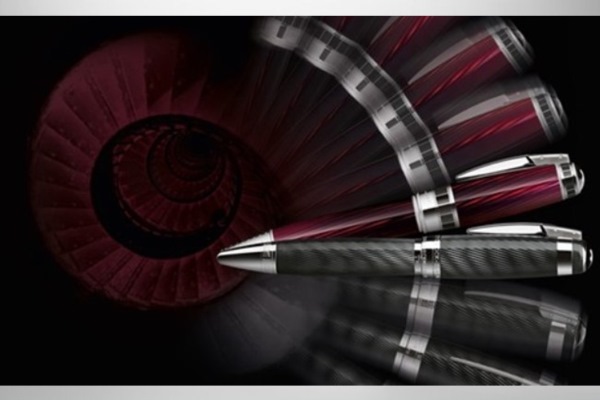 Montblanc honors the master storyteller of the horror and suspense genre with the bloodcurdlingly cool Alfred Hitchcock writing instrument. Hitchcock, perhaps best known for his iconic thrillers "Vertigo" and "Psycho", was a genius at suggestive scares, insinuating violence without depicting it explicitly onscreen. In a similar vein, the Montblanc Alfred Hitchcock Limited Edition pens pay tribute with subtle design details that allude to Hitchcock's films.
Alfred Hitchcock Limited Edition 80
The Montblanc Alfred Hitchcock Limited Edition 80, which will see only eighty specimens being offered on the market, is offered in 750 white gold, with a dramatic swirling pattern in black lacquer contrasted against a blood-red body.  The very neat "Psycho" knife clip is also embellished with diamonds.
Other nifty details: the cap rings of the Limited Edition 80 are encircled by a stylised roll of celluloid film, a director's ultimate tool. The final, dramatic flourish? The rope detailing that wraps around the fountain pen's cap, barrel rings and cone references the murder weapon used in "The Rope" (1948).
Limited Edition 3000
Also in the collection is the Limited Edition 3000, available in a 146 size fountain pen (3,000 pieces) or Rollerball (3,000 pieces), both set in 925 sterling silver. The "Vertigo" staircase can be glimpsed in the dark lacquer cap and barrel of the writing instruments, and the infamous "Psycho" knife is incorporated into the pen clip.
Film buffs will be chuffed to know that the Limited Edition 3000 also features engraving on the rings of the notes that would have identified the original film reel of "Psycho". The 925 sterling silver cone of the writing instrument also sports precisely 53 hatch marks, symbolising every movie that Hitchcock directed during his impressive six decade-long career.