Welcome to Max Busser's childhood. Unveiled properly in Singapore recently, the MB&F Horological Machine No4 Thunderbolt is a twin-jet turbine luxury mechanical watch.
This is the sort of statement timepiece – a veritable kinetic sculpture – that cannot fail to make heads turn yet, as Busser himself points out, it does provide time in a rather straightforward fashion.
Nevertheless, straightforward comes to a screeching halt once you get past the aviation-inspired displays.
Rather than the Wrath of Khan, Busser was inspired by his childhood passion for model aircraft. In this case, it was the Thunderbolt A10 fighter jet. One might say that although the watch has been in development for three years, it has really been gestating for decades.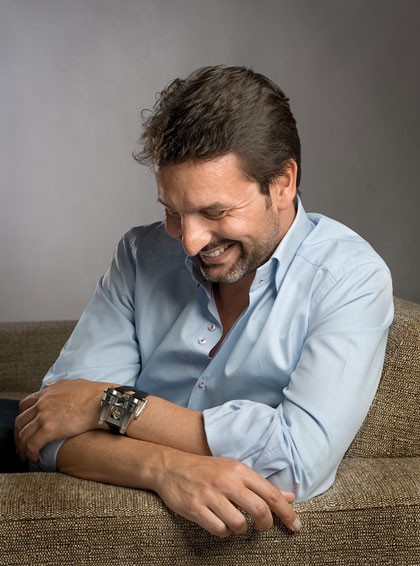 In the press notes for the HM4 thunderbolt, MB&F says that each of the 300-plus components in the movement was developed specifically for the engine of the watch. This includes everything, from the mundane (screws) to the extraordinary (the regulator).
Busser confirms that the watch was developed from scratch, as it were, since nothing like this has ever existed. In fact, for MB&F watches there are no faits accomplis.
For the HM4 Thunderbolt, the case had to be reinvented to adequately represent Busser's vision. And what a vision it is.
Just by looking at the profile of the watch, three distinct areas can be made out: the jet turbine shaped Grade 5 titanium housing for the engine block, the cabin section in sapphire crystal, and the Grade 5 titanium housing for the time and power reserve displays.
All three sections were machined out of single blocks, each of which Busser confirms was an exacting process.
We close out this brief glimpse of the HM4 Thunderbolt with a note about the mechanics. There are two crowns here, one for setting the time and the other for winding the watch.
In the turbine corresponding to the power reserve display, the winding action drives the horizontally configured dual mainspring barrels via conical gears.
In turn, the barrels drive two vertical gear trains, transferring power to the twin displays.