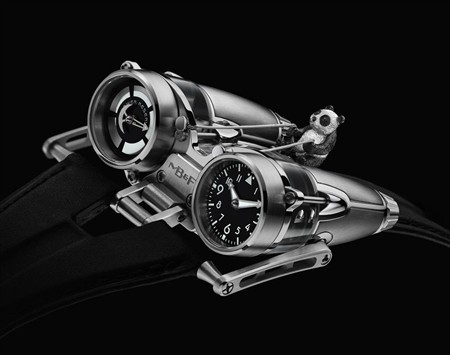 MB&F's creation this year for the Only Watch charity auction is an ultra-cool concoction that appears to have flown out of a child's dreamscape: a sapphire and titanium jet turbine-shaped pod, its pilot a miniature solid gold panda.
A truly magical synthesis of art and cutting-edge haute horlogerie, this special edition HM4 Thunderbolt's genesis is itself imbued with a fairytale quality. It all began when MB&F founder Maximilian Büsser gazed upon a watercolour painting of a panda bear flying on a rocket at an art gallery.
That painting was by Paris-based Chinese artist, Huang Hankang, who was then invited by MB&F to collaborate on this year's Only Watch project. The artist agreed, and as he relates, ""I saw MB&F's work as art, not watchmaking. It comes from unfettered imagination, just like my paintings."
Huang first imagined and then drew a delightfully carefree panda bear flying on top of the HM4, and MB&F set about transposing Huang's painting into a horological instrument. Huang's original painting accompanies the HM4 Only Watch.
The result of the collaboration was a dreamchild (or is it dreamcub?) featuring a panda riding astride the HM4 jet, which he controls with reins made of twisted gossamer gold filaments. The panda "pilot" was hand-carved and cast in 18k white gold using the "lost wax" technique. And while the HM4 Only Watch is a celebration of the freewheeling fantasy of children's dreams, there is also a feature for those obliged to ground their feet in reality from time to time: the panda and his reins have been micro-engineered to be completely detachable so that HM4 transforms from a flying machine into aHorological Machine.
The HM4 Only Watch 2011 will be auctioned at Only Watch, the charity auction benefiting duchenne muscular dystrophy research. The auction, which will be held in Monaco on September 22 under the patronage of HSH Prince Albert II, is organised every two years and brings together the best of Switzerland's haute horlogerie makers.
MB&F is available exclusively at Europe Watch Company in China.
The Mission of Peace (2007), Huang Hankang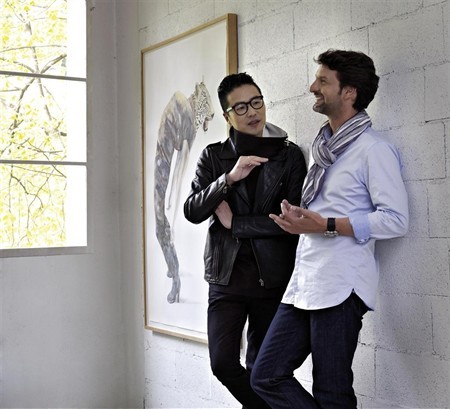 Artist Huang HanKang and MB&F founder Maximilian Büsser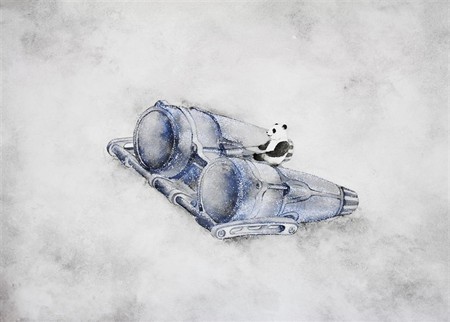 Flying With Eye In Sky (2010), Huang Hankang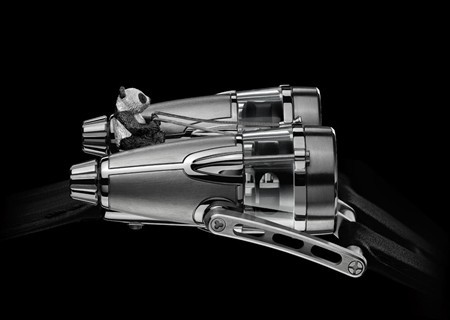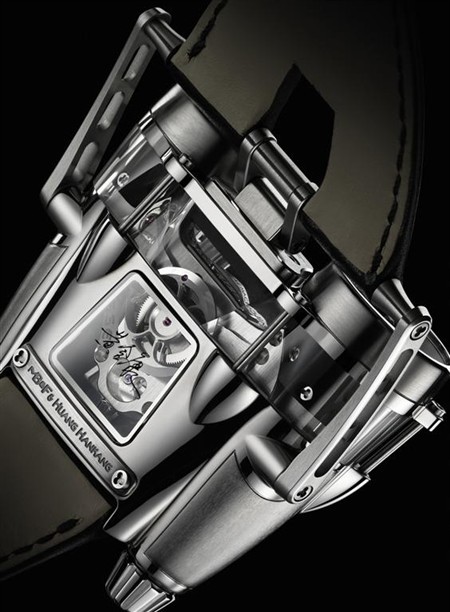 HM4 Only Watch 2011: Technical Specifications
Features
A detachable 18k gold panda and reins on top of Horological Machine No4 with the signature of the artist, Huang Hankang, on the sapphire glass display panel.
Case
Grade 5 titanium and sapphire with a detachable 18k white gold panda holding gold reins
Dimensions (without panda): 54mm wide x 52mm long x 24mm high
Number of components: 65
Articulation of the lugs: 3°
Functions
Hours, minutes, and power reserve indicator
Hours and minutes on the right dial; power reserve indicator on the left dial
Separate crowns for time setting and winding
Engine
Three-dimensional horological engine developed 100 percent by MB&F
Manual winding with two mainspring barrels in parallel
Power reserve: 72 hours
Balance frequency: 21,600bph/3Hz
Number of components: 311
Number of jewels: 50
Sapphire crystals
Five sapphire crystals: 2 for the dials, 2 for the display panels (top and bottom), and 1 for the central case section
Strap and buckle
A black hand-stitched calfskin strap with a titanium/white gold custom-designed deployment buckle attached to articulated lugs
Painting
The HM4 Only Watch is accompanied by the original watercolour that artist Huang Hankang painted to express his message with MB&F's Horological Machine No. 4.