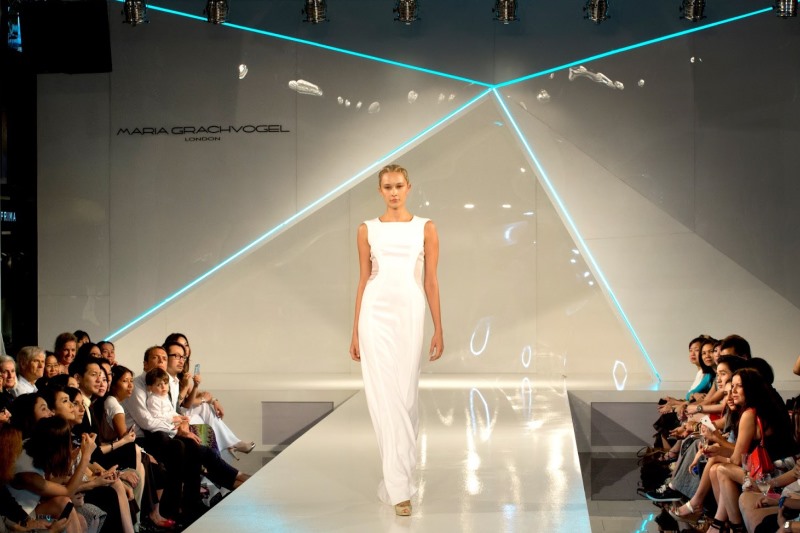 At the sublime presentation of Maria Grachvogel's Spring/Summer 2013 show held at Paragon on the 1st week of April 2013, 15 statuesque international models with clean, sheer make-up and braided hairstyle took to the catwalk to present timeless, ageless, gorgeous apparel that flatter the female form.
As Maria not only fit her designs on models, but on real women,-her apparel will work well on all different body shapes made possible by paying special attention to the cut and tailoring – so whether you are 5 ft 2 or 6 ft 2, and whatever your body size and shape is, she has styles to suit you.
The show also featured her timeless 'magic pants', where the side seam was taken away to create a narrower hip and the curved seam at the back shapes the bum and lengthens the leg, a dress style that can be worn in four ways – front or back as a dress, front or back with a self-belt as a tunic, luxurious knitwear, slinky skirts and dresses, stunning blouses with draped cap sleeves (aka fishtail hems) and her trademark catsuits. Her styles are as versatile as they are flattering and beautiful. Another winner is her digitally hand-painted prints, which are engineered onto the shapes of the garments to "sculpt" the body. These pieces can also be machine-washable at 40 degrees.
Silk organza featured strongly for this season's collection matched with silk crepe, chiffon, cashmere and silk.
The clothes' finishing uses French seams and the tiniest pin hems on the chiffon, which makes the seams neater and last longer on this super delicate fabric. Most finishes on her designs are by hand so the result is invisible and as beautiful on the inside as on the outside.
As every piece is so carefully crafted, production and distribution are limited to a few pieces per design in order to ensure the best quality.
Check out photos of VIP guests at the event here.
(Photos & Source: Maria Grachvogel)