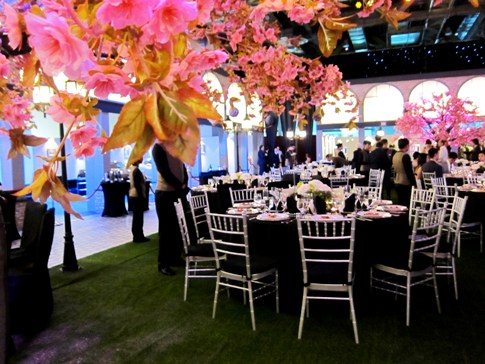 As I stepped into the fashion metropolis, I was warmly greeted by a cherry blossom garden, decorated with Greco-Roman arches, Victorian street lamps, Samsung Smart TVs (with almost no bezels), a beautiful Steinway piano, cobblestone floor designs, and not forgetting the avant-garde fashion labels.
 "Fashion is not something that exists in dresses only. Fashion is in the sky, in the street, fashion has to do with ideas, the way we live, what is happening." -Coco Chanel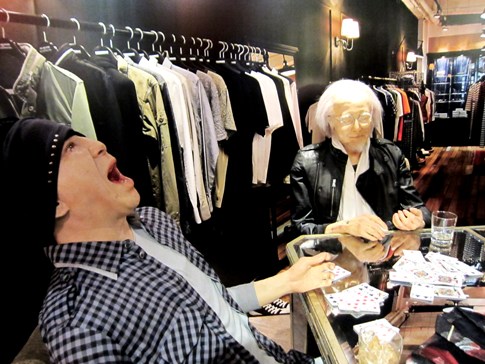 From casual street adult to rocker grandpa.
Two sections caught my attention as I strolled within the premises. The first, being the sleek and elegant Aston Martins exuding a sixties' era charm with modern twists. Secondly, the Diet Butcher Slim Skin menswear collection featuring clothes for ages that could be worn by any man from their 20s to their 80s.
The emcee for Men's Fashion Week was tHe charismatic Utt, who's back in the media industry after his monk service back in Thailand. His wit and easy-going personality set the audience at ease, and I'm sure I speak for everyone when I say, "Welcome back."
The fashion bug
I was really honored to be even BE at MFW, to witness designers from all over the world under one roof. Fashion was not only relegated to the runway but was also prevalent on the ground! The journalists, crew, and even the photographers made an effort to dress up for the event. Kudos also, to the professional and experienced models that brought out the personalities, and essence of each brand.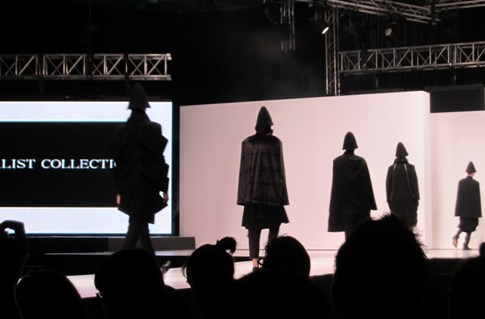 Vandalist, had all the models wearing conical hats, edgy underground silhouettes, in chic, minimalist black. Drawing inspiration from creative destruction, Heemin Yang also creates his own runway music to make the whole show more personal.
Resurrection's ensemble by Lee Juyong was evocative, almost bordering on goth fashion. The pieces had interesting zipper designs and fringes that were subtle, along with some military print infusions.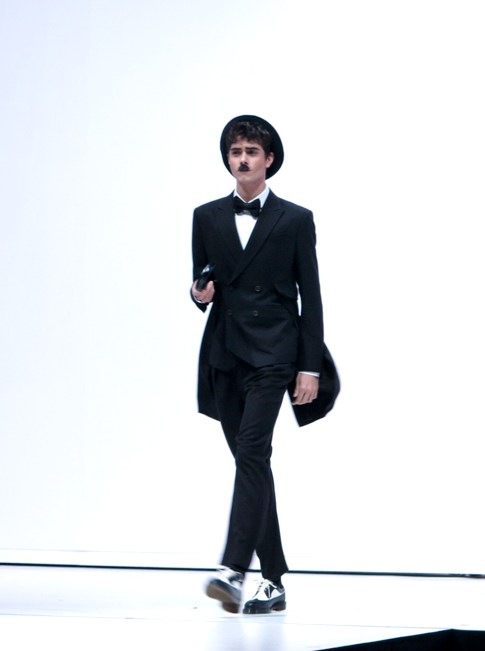 D. Gnak presented a Charlie Chaplin-inspired runway show with the characteristic moustache, bowler hat and cane. The models portrayed upbeat and entertaining parodies while the outfits had slight variations, which was a refreshing change, from the usual suit, blazer and pants.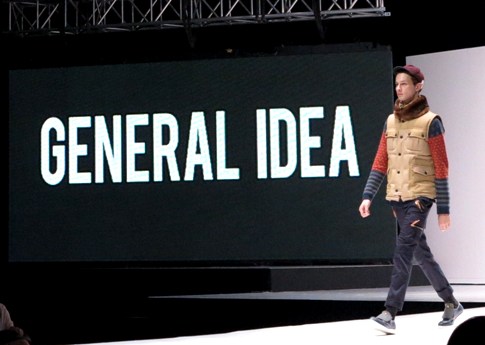 General Idea is definitely a brand to look out for in future, with their trendy, practical winter wear and modish backpacks.  The designer, Bumsuk Choi featured plaid blazers and knitted overalls for a preppy, boyish look.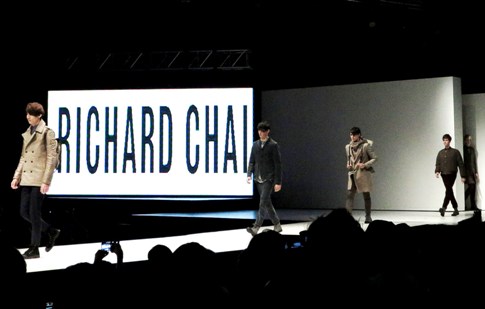 USA Label, Richard Chai demonstrated his New York casual street wear with belted parkas, grey windowpane checks, and wine-red pants. His fabric choices and boy-next-door looks are sure to create a buzz in Asia!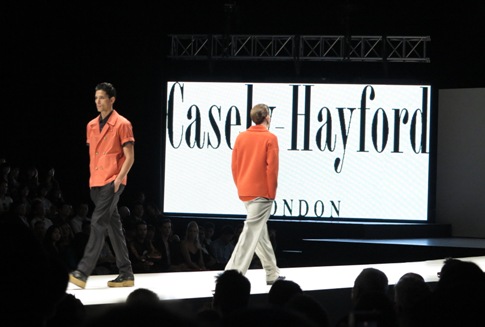 UK brand Casely-Hayford is a father and son collaboration with a variety of elegant suits and casual wear. The collection presented quality, statement solid-colour pieces that had the charm of traditional British wear with sporty laid-back twists. So glad that their collection managed to make it in time or we would've missed out on such fine menswear.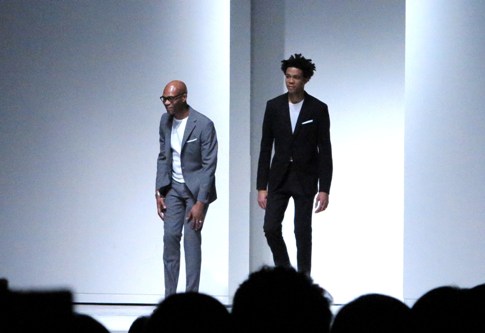 Alexis Mabille's showcased his new intriguing HOM male underwear series that captivated and mesmerized the audience. Lean, sculpted and ripped topless models strutted in grey marl underwear prints that got the ladies in the audience all hot and bothered in their seats.
Mabille's artistic fabric choices saw velvet, lace, leather in extravagant detail, emphasizing richness in the colour choices that reflect his exquisite taste. Casual, yet luxurious, would be an apt way of summing his latest line of menswear.
Matthew Miller's eye for style was evident, as seen in the collection which showcased diverse, bold colour palettes and unconventional prints that fashionistas will love. His quirky, symmetrical, and attention grabbing outfits have won him several design awards and he is definitely a rising star in London's fashion scene.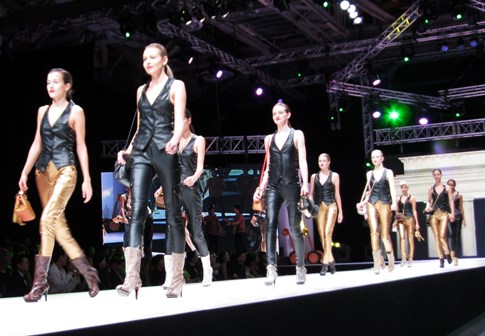 The highlight of the night was luxury brand MCM with its distinctive logo and recognizable caramel hue. MCM showed off their contemporary and classic range of backpacks, luggages, messengers, clothes, customized Segways and even leather plushies!
The collection explored the use of leather, multi-coloured animal prints and spikes for the inner rock chick/hunk. We were treated to a spectacular breakdance performance by Korean B-boy group , Last for One and models dancing on the runway, and with a burst of confetti,  brought the segment to an end.
 Spotted a number of outfits that I absolutely ADORED. Excellent craftsmanship.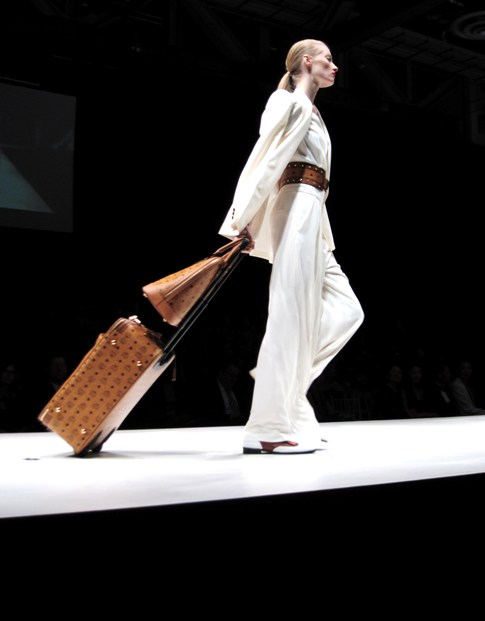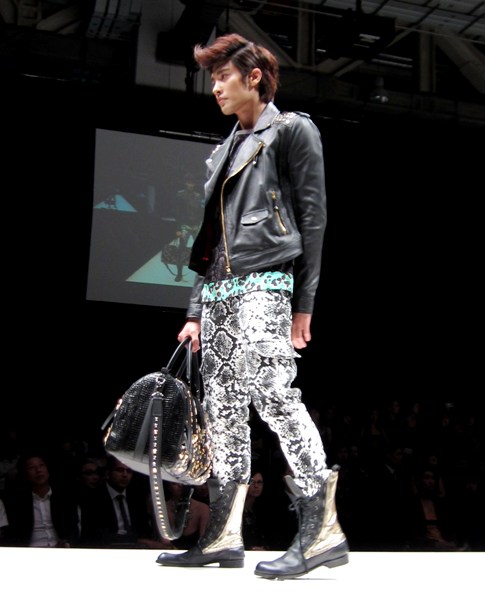 Timeless Bomber jackets for a style that's never out of fashion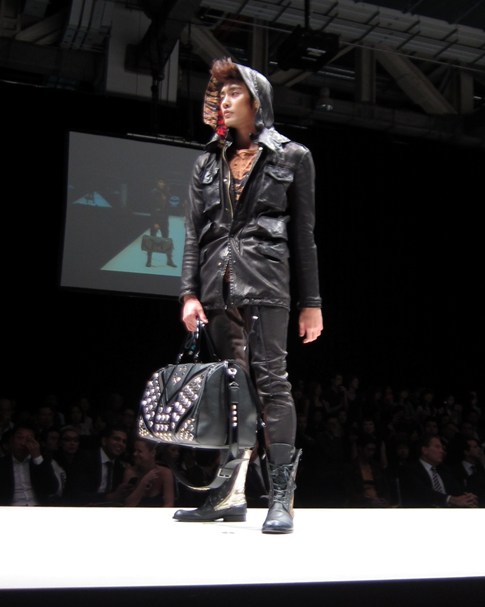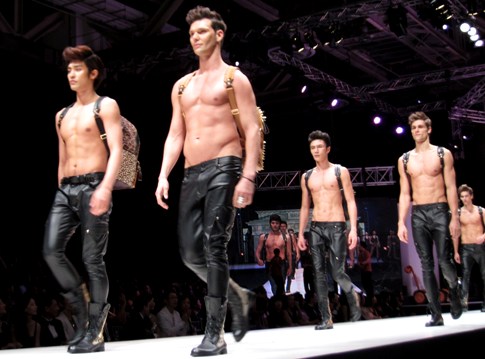 "There's something for the ladies too."
 Not your typical fashion show
Fashion shows don't normally have music and performances (unless it's Victoria's Secret) so we were in for a treat!  Se7en, popular actor/singer/dancer from Korea, wowed the crowd with his precise and sexy dance moves, and belting popular hits like, "When I can't sing" and "Passion". He first caught my eye in the Korean drama Goong S with his boyish looks, but since then, he has matured into such a heart-throb.
Adorable Bie Kpn, winner of a Thai vocal talent show, who captured the hearts of women in the audience with his cute, bashful comments. His emotional rendition of songs and dance numbers proved his star quality in the industry!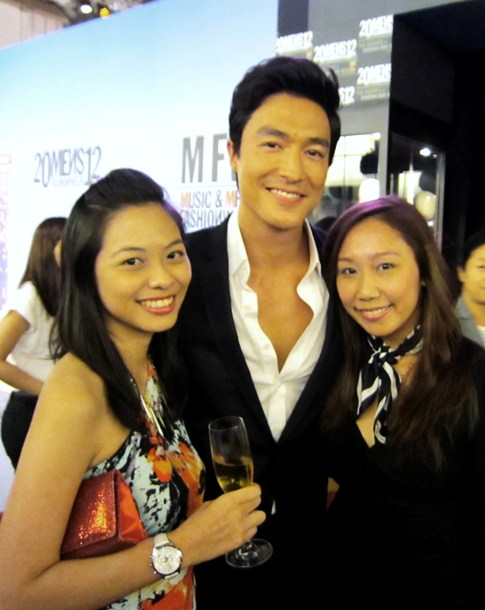 Hot, gorgeous, with a killer smile, this photo with Korean model/actor Daniel Henney in a suit truly made my night.
 This whole event was an eye-opening experience to the world of fashion. I was fortunate to get to rub shoulders with the movers and shakers of the local and international fashion industry.
Since everyone was dress so fabulously, I was busy taking mental notes to update my own wardrobe in the future! I definitely could get used to this.
Thank you so much WTFSG.com and Word of Mouth Communications! <3.
Till the next fashion event WORTH going to!
x0x0,