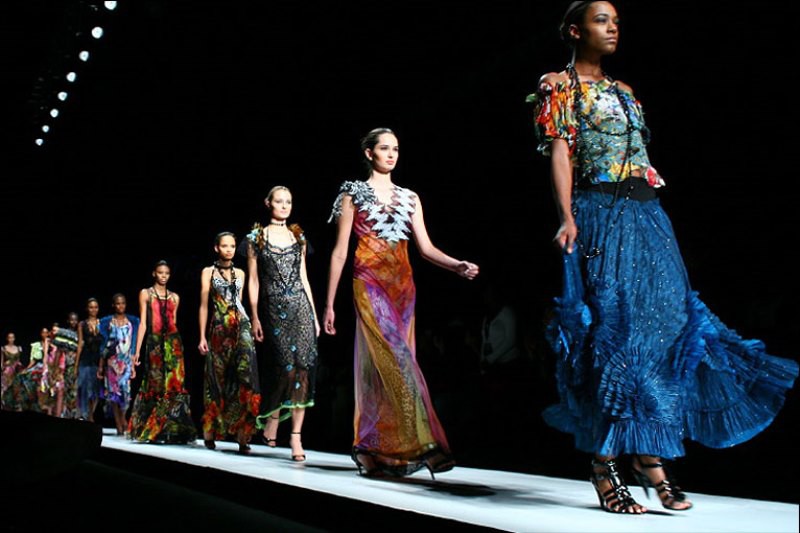 WTF is always on the prowl for the latest Fashion Trends across the globe, here we have put together a list of fashion-centric bloggers from South Africa for you to check out.
Check out the list below, sorted according to alphabetical order.
If you know any more Fashion bloggers to be added to the list, please feel free to comment in the box below, our writers will update accordingly. 
(Photo above: The South African city of Johannesburg has been hosting Africa's first fashion week. 20 June 2009 | BBC News)
(Source: Indiemode)
You simply have to love blogger Leigh van den Berg of Lipgloss is My Life! Lipgloss is indeed Leigh's life and she is always revealing brand new beauty products to her avid readers. Leigh lives the beauty and fashion lifestyle many young women aspire to. If you are keen on exploring new beauty products and reading her reviews then this is the blog for you. Furthermore, Leigh doesn't only share her thoughts on beauty. She also has a keen fashion sense and this is evident in her numerous fashion posts.
We honestly respect Robin Cooke of Style Guide Cape Town. This is a woman who is not afraid to speak her mind. And when it comes to fashion, boy is she serious. However, her posts are never without added humour and we doubt you will ever read her blog without having a good chuckle.
Robin blogs about celebs and she mostly isn't singing their praises. She recently had this to say about the way Kim Kardashian has been dressing now that she is pregnant: "I just don't know what to do about this. I decided a couple of months ago to simply abdicate from the whole discussion of Kim Kardashian's style. I just can't. It stresses me out too much, you know? And steadily the maternity dressing began. And it was a HORROR SHOW. And so I felt justified in just staying out of things. But then yesterday happened. Three looks in one day. Each progressively worse than the next, and I could stay quiet no more…Seriously. Has this woman not got a mirror. Leather on curves on a normal day is a disaster. We discussed this yesterday. But on a pregnant woman, who has ample proportions anyway, it is really just silly. It beggars belief."
Carla Fourie describes her beautiful blog, Style Diary, as follows: "Style Diary is a South African fashion blog where you'll find posts about all things fashion and beauty-related, including fashion trends, fashion finds and outfit combinations that I love. Occasionally I post some of my favourite outfits and you'll see that I like to mix current fashion trends with items that I already have in my wardrobe."
Carla's personal take on fashion is evident throughout her posts. She shows readers how to wear items, shares inspirational pictures from high fashion and also conveys her knowledge of beauty products.
Molly Kieser's job as a fashion merchandiser by day and fashion designer by night allows her to travel the world in search of the latest trends. She recently visited New York and Seoul and snapped some pics for her fashion blog.
Molly blogs about fashion events, industry magazines, travel and a whole lot more. You're bound to find fashion inspiration from this expert fashion lover!
Jerri Mokgofe's blog is delightful! He features many famous faces from South Africa. Jerri captures fashionable moments incredibly; you will love his "According to Jerri Fashion Trends" and "Striking Faces" posts. In the latter, he captures beautiful and interesting faces of people all over SA.
Brett snapped up the Best Fashion Blog Award at last year's South African Blog Awards. She sure deserves credit for her unique and personalized fashion blog.
Brett showcases her natural talent for matching garments. She gives us great insight into the life of an individual passionate about the art of outfits. And no matter where in the world she is travelling to, she'll post her looks against an interesting setting.
Kim Gray is a household name in South Africa and this fashion lover sure knows how to blog about her passion. Kim's blog is sophisticated and very involved. She runs numerous competitions where readers can win the latest fashion from local brands. If you are keen to see the latest brands or products to hit South Africa then Kim's blog is just for you.
Miss Milli B brings a true South African approach to fashion blogging. She opts for that which is funky, hip and happening. Milli blogs about fashion shoots, lookbooks, South African designers, hairstyles, beauty and more. Her blog can be described as eclectic, yet grounded in a true and vibrant South African style.
Fashion Jazz is one of South Africa's most popular fashion blogs and is run by entrepreneur and stylist, Jasna Zellerhoff.
Jasna keeps up to date with the latest fashion industry events and blogs about them. Her vibrant blog is testament to the boundless enthusiasm she has for the industry.
iFashion is South Africa's top news source for fashion events, latest trends, industry jobs and happenings within the country. iFashion aims to promote fashion in all forms; in particular the site supports local designers and there is even a section dedicated to starting your own fashion label which features fantastic resources for those serious about entering the field.
iFashion features an extensive fashion directory consisting of contacts for accessories, beauty, events, education and training, fashion designers, wholesalers and more. There is even a section for those interested in jobs in the South African fashion industry.