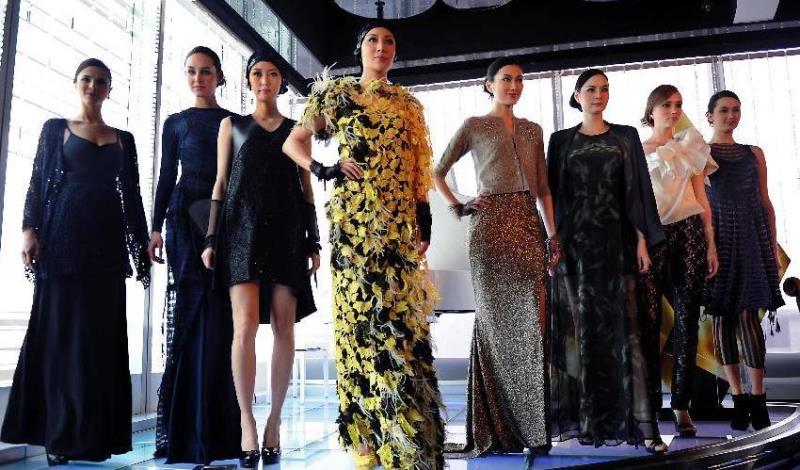 WTF is always on the prowl for the latest Fashion Trends across the globe, here we have put together a list of fashion-centric bloggers from Hong Kong for you to check out.
Check out the list below, sorted according to alphabetical order.
If you know any more Fashion bloggers to be added to the list, please feel free to comment in the box below, our writers will update accordingly. 
(Photo above: Models present fashion creations during a press conference promoting the Hong Kong Fashion Week in Hong Kong, south China, Jan. 3, 2012 | Xinhua/Chen Xiaowei | News.CN)
The strength of this website is the sheer quantity of content they produce, which inevitably covers almost every topic  for all fashion-related news in Hong Kong.
This Hong Kong fashion blog is all sorts of adorable! Dotthy admits that "she makes dessert with clothes in her closet." If you check Lookbook, Dotthy is one of the more popular members from Hong Kong. The reason is quite simple: she does the "girly-candy" look so well.
Cindy Ko is one of Hong Kong's original fashion bloggers and has since turned Cindiddy (CDD for short) into a bonafide brand. Besides collaborations with fashion brands, she's launched her own line of 'Noble Nobody' products and started covering food earlier this year (fashionably, of course).
This Hong Kong style blog is managed by one team. According to an interview with How I Met Your Style, "Electric sekki is a fashion bureau specializing in strategic distribution placement and brand development in Asia. We work with the most exciting creative minds in the industry, not just in terms of design, but also in retail, digital strategy, lifestyle and art." If you're into trends, hot finds, and getting to know fashionable people, Electric Sekki is a must-read.
Former model Elle Lee was born in Shanghai, raised in London and now works in Hong Kong as one of the city's few bilingual fashion bloggers. Proving she's more than just a pretty face, Elle is also a social media expert who goes from A-list fashion events to scarfing down homemade goodies at the neighborhood market.
Fashion Hedonism is run by Christing Chang, known for her love of denim shorts, fierce long locks of hair and towering heels. Given the popular reception of her blog, Christing has since then opened her own e-store, Christing C., a spin-off brainchild that gives her readers the opportunity to channel her signature look. The store features individual boutique brands from countries such as Australia etc.
The stylish lady behind this Hong Kong fashion blog is Zoe. She is 15. Yes, 15. Amazing, right? I know there are many young teenagers who dominate the world of fashion blogging but Zoe stands out. It seems like she is having fun experimenting with styles but it's obvious that she has found her "voice."
Carmen Chan and Kenneth Wu are the photographers behind HIMYS, a passion project that focusses on the homes of fashion bloggers. They capture some of the best and brightest in the US and Hong Kong all through the magical medium of film. They are also full-time professional photographers, having done work for an astounding array of publications like Prestige, Lane Crawford, South China Morning Post etc.
Love him or hate him, Joey Ma is making waves in the Hong Kong fashion world. With his trademark long hair and (some might say) crazy outfits, it's all about individuality for this punk rock and Vivienne Westwood-inspired fashionista.
This is another Hong Kong style blog that is a delight to the eyes. The lady behind this blog is very popular for her whimsical and romantic style. I'm sure you've seen some of her looks all over the web. She is THAT lady who looks amazing in pastels, pops of color, and lace socks.
Former fashion model Sabrina Sikora is representin' for all the tall girls out there. This gorgeous lady is equally skilled in front of and behind the camera, shooting for various publications around town, blogging about style and making pretty much anything look good on her tall and slender frame.
Samantha's blog has a beautiful minimalism to it, that is simultaneously calming and almost nostalgic. The simplicity behind her photography creates an easy visual storyline to follow. She is a very talented stylist (interior and fashion) and has also been featured on Chictopia.
Sha Lai is the sister of Denise from SUPERWOWOMG (listed as #2 on this post). Her style is relatively boyish, sharp and tailored. Main elements of her blog include photography with a filmic feel, travel, food and fashion.
This is the style blog of Judy. She is one stylish mom. If you want a fix of edgy fashion and adorable kids, this is the HK style blog that you have to bookmark. Aside from outfit posts, Judy's blog also features snippets of her life.
How cool is that blog name? This style blog is run by the ultra-talented and oh-so-pretty Denise. Not only does Denise know her style, trends, and the coolest people to be with in Hong Kong, she is a creative, too. She does graphic design under the moniker D-NYCE.
With her trademark half-shaved hairstyle, fierce fashion stylist and blogger Tina Leung serves up copious amounts of selfies in between jaunts to Hong Kong (and the world's) biggest fashion events. She's also the official Instagrammer for @LandmarkHK — reporting live from the runways in Paris, London and Milan and giving us glimpses of her exciting life in and around Asia.
Vnikali is run by Veronica Li, who works as a professional stylist in Hong Kong, boasting enviable clients such as Swatch. The growth of her blog has been immense over the past few months, the most exciting being her invitation to travel  to Vienna. Her petite frame makes her a relatable figure especially to other Asian girls.
Architect by day and fashion blogger by night, JJ Acuna reports on the latest in design, art, lifestyle and travel throughout Southeast Asia. Style staples for this dapper gent include blazers, loafers, a good pair of glasses and pocket squares.
Aren't these Hong Kong fashion blogs amazing? We'll leave you to your blog-hopping now. Hope you find style inspiration from these top Hong Kong blogs above!