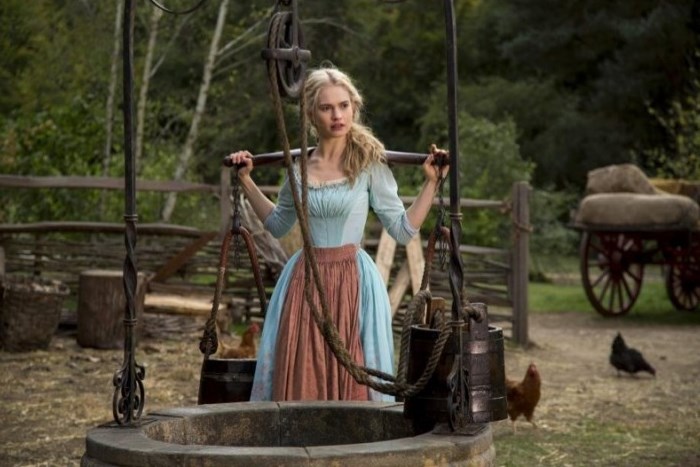 Lily James stars as Cinderella. Here she wears a blue dress shown as her work clothes as she tends to domestic chores
Set to hit theaters on March 13, the live action version of 'Cinderella' stars Lily James as Ella with Richard Madden as Prince Kit, Cate Blanchett as the Wicked Stepmother and Helena Bonham Carter as the Fairy Godmother. The costumes of the film fulfill all our inner 7-year-old fantasies with beautiful ball gowns, one pair of sparkling glass slippers and even a wedding dress. Costume designer Sandy Powell was in charge of dressing the stars for the film and settling on the time period when the costumes would be inspired by. Working with director, Kenneth Branagh, Powell says, "The whole look of the film is sort of 'Once Upon a Time' period, sort of in and around the 19th century, with a bit of 18th century thrown in to the palace."
———————————————————
CINDERELLA BALL GOWN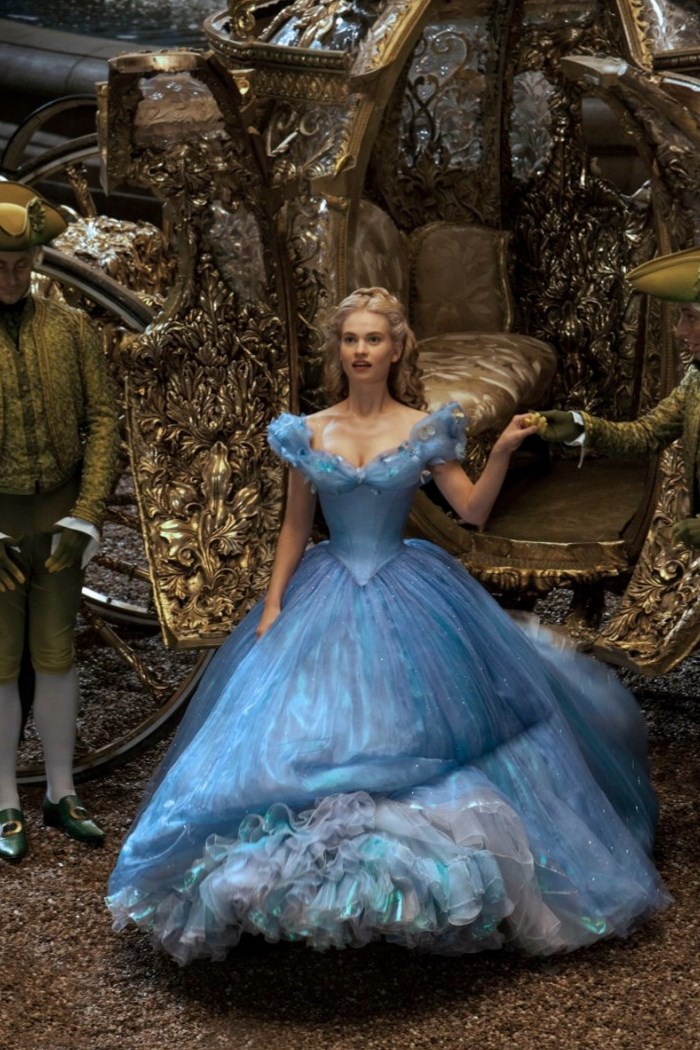 Lily James wears the ball gown in a still from the 2015 live action version of 'Cinderella'.=
No doubt the most important costume in the film had to be Cinderella's ball gown. Powell explains the challenge behind the iconic look. "The gown has to look lovely when she's running. I wanted it to look like a watercolor painting. There were layers there of the finest fabric in different colors so when she moves, they move in a water-like fashion." The ball gown used over 10,000 Swarovksi crystal and 500 hours to complete with 18 tailors working on the look. The design was made of layers of fabric such as crepe line silk, polyester and nylon with James donning a petticoat and corset underneath.
———————————————————
THE GLASS SLIPPER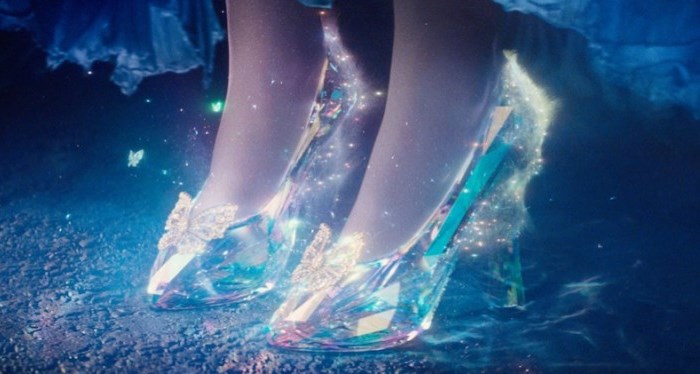 A still of the glass slippers from the 2015 'Cinderella' film. The shoes were designed by Swarovski
The glass slipper is another important aspect of Cinderella's looks. When she rushes out as the clock strikes midnight, she leaves one of the heels behind, beginning the Prince's search for his one true love. Powell says that she had the idea that they would be made of actual glass. She then decided to go with crystal since glass does not sparkle, and when you think of crystal, who else do you think of besides Swarovski? The brand designed eight pairs of shoes for the movie. But in the film, Lily James does not wear the glass slippers. As the actress explains, "[They] were not comfortable, because they didn't fit my foot, which is totally breaking the illusion. But the good thing is that they fit no foot, so it's not just like they got the wrong Cinderella." Although in the movie you see characters hold the actual crystal heel, they are CGI-ed onto Ella's foot.
———————————————————
THE CINDERELLA WEDDING DRESS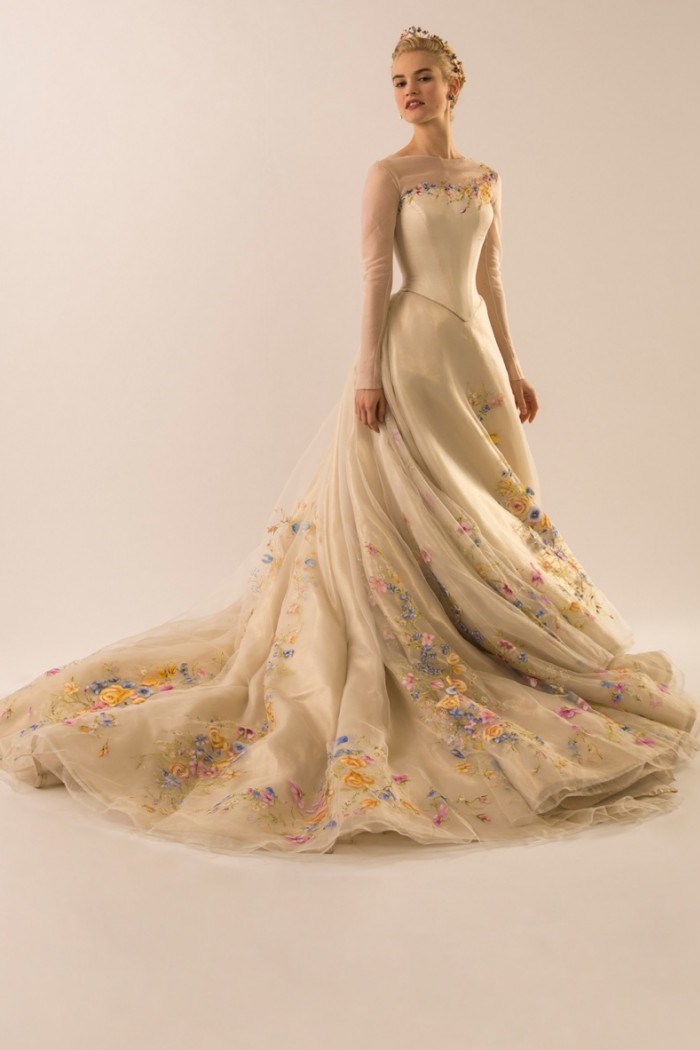 Lily James wears wedding dress in character as Cinderella (Photo: Disney via Vanity Fair)
Another big moment of the Cinderella canon is when Ella and the Prince get married. For the wedding dress, costume designer Sandy Powell, made a long sleeve, silk organza gown with enchanting floral detailing. "Cinderella wins the Prince's heart through her goodness, so I wanted to show this through her clothes," Powell told Vanity Fair. "I wanted her to stay modest and pure even though she was going to be a part of royalty." In total, the wedding dress took 16 people over 550 hours to make! That's the equivalent of almost 23 days.