Lady Gaga in Tarun Tahiliani
The high-octane weekend that was the Indian Grand Prix saw some of the biggest names in the racing circuit being outshone by the Mother Monster herself, who thrilled her Indian fans by performing at the after party in a sari by up-and-coming local designer Tarun Tahiliani.
The pop superstar, infamous for her outre fashion choices, had originally planned on wearing outfits pre-chosen before the show, but was so enamored by the samples Tarun Tahiliani sent her just days before the F1 weekend, she opted to wear a piece from the Delhi-based designer. The outfit she chose was a lovely cream body suit with sexy side panel cutouts, embellished with gold and Swarovski chains and overlain with a stylized, draped sari in shimmery lame and chiffon.
The designer was, needless to say, ecstatic to have a celebrity of Lady Gaga's calibre wearing one of his creations at such a high-profile event: "She completely transformed our signature sari drapes, first into a sarong drape, then she threw the pallu off and eventually she performed in the body suit with fish net stockings and Louboutins."
"It was her creative genius that made five different looks out of one of our pieces. The fact that she chose to wear Tarun Tahiliani through not only the day but also the night was an affirmation of our emphasis on fit and finish, as the fit on her was perfect. We are very flattered and honoured that Lady Gaga chose to wear our design for her concert."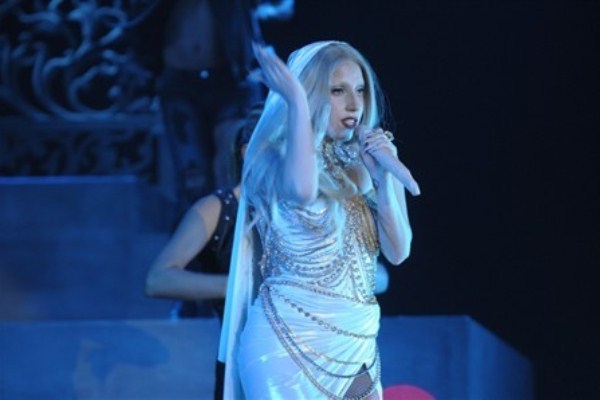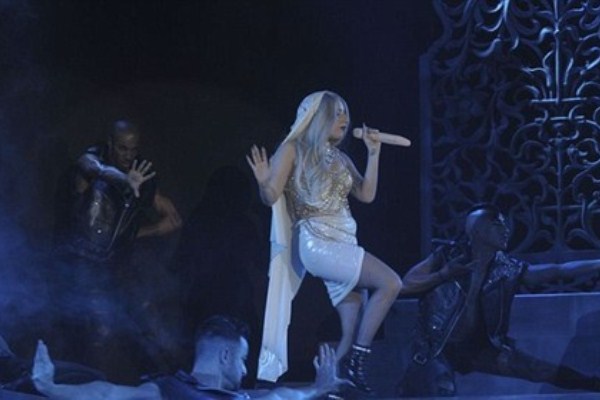 A full frontal view of the dress chosen by Lady Gaga for her Indian Grand Prix performance