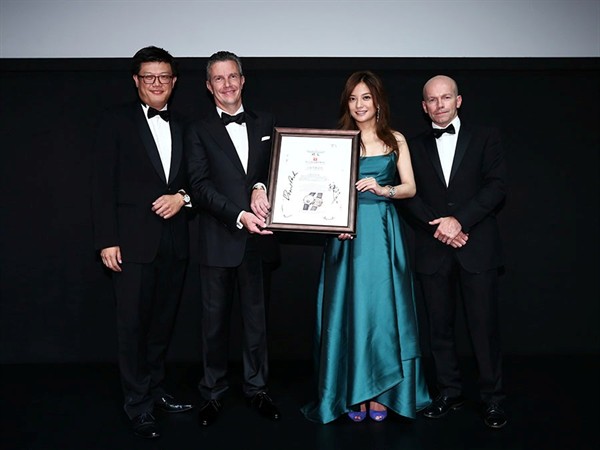 On the opening night of the 17th Shanghai International Film Festival, Jaeger-LeCoultre held a press conference and hosted an auction gala and reception to benefit the continued growth of the Chinese film industry. Held at the Shanghai Film Museum, the event saw more than 200 members of the press and over 300 guests in attendance, including brand ambassador Zhao Wei, action director John Woo, and Chinese actor Feng Shaofeng. This is the fourth year that Jaeger-LeCoultre has been involved in the festival, which celebrates the achievements of the Chinese film industry.
At the benefit auction, several items put up by Jaeger-LeCoultre and celebrities went under the hammer with proceeds going towards the restoration of Chinese cinema classics. Auction specialist Ms Jin Ling from Christie's hosted the event, with notable items up for bid including a one-off Jaeger-LeCoultre Duomètre Unique Travel Time watch engraved with "SIFF 2014" on its case's side, which fetched RMB 780,000.
When this partnership first began in 2011, the manufacture announced that the most significant project to follow would be the restoration of Chinese cinema classics to save this aspect of China's rich cultural heritage. Nine films have since been restored in what was the first participation by a private company in such work with the latest, Wu Tai Jie Mei (Stage Sisters), being the first colour movie to be restored.
Wu Tai Jie Mei was directed by renowned filmmaker Xie Jin in 1964; its restoration spanned six months and involved 80 members from both the festival and Cineteca di Bologna's film restoration laboratory. To pay homage to Xie and mark the 90th anniversary of his birthday this year, the fully restored digital edition of the film was shown to the public as the opening feature of the festival.