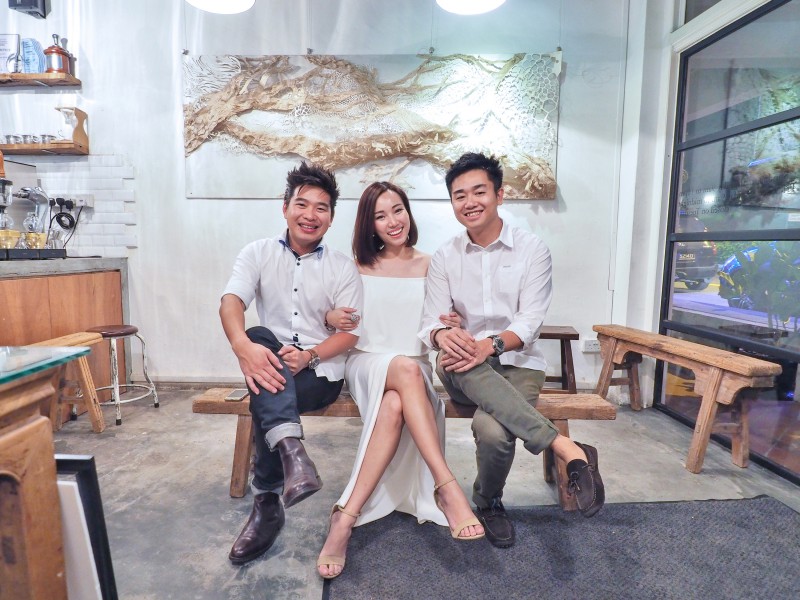 Strangers' Reunion Co-Founders Ryan Tan (Left) & Melvin Pang (Right) with Beatrice Tan (Middle)
KLARRA the online fashion store recently held a media preview showcasing it's Spring 2015 collection at Strangers' Reunion bringing the perfect union of two Singaporean favourites, Fashion and Food.
Strangers' Reunion is famous for its coffee, which is specially sourced and curated by three-time Singapore Barista Champion and co-founder Ryan Tan.
World Gourmet Summit-certified chef Daniel Chin constructed the latest menu, where each dish is designed to bring to one's palate a mix of unique flavours and textures, with at least five different elements.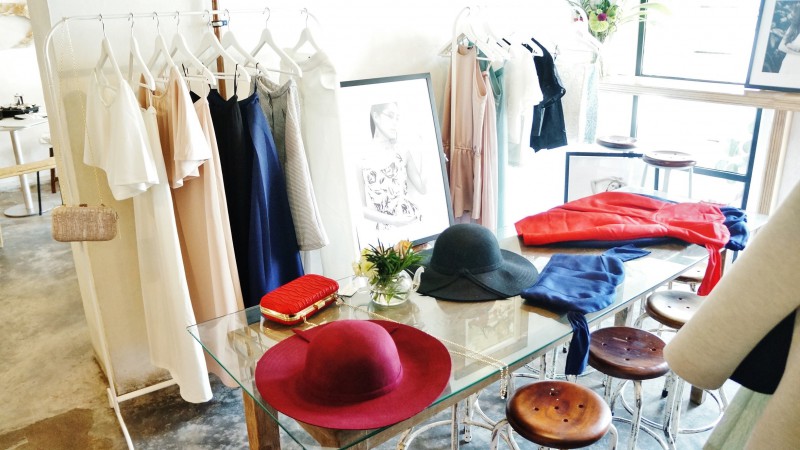 Patrons may pique their appetites with a choice of starters such as:

The soul-soothing Wild Mushroom Veloute ($9.90)
 Topped with shimeiji mushrooms and togarashi croutons for just the right amount of crunch. A drizzle of fragrant truffle oil completes the dish.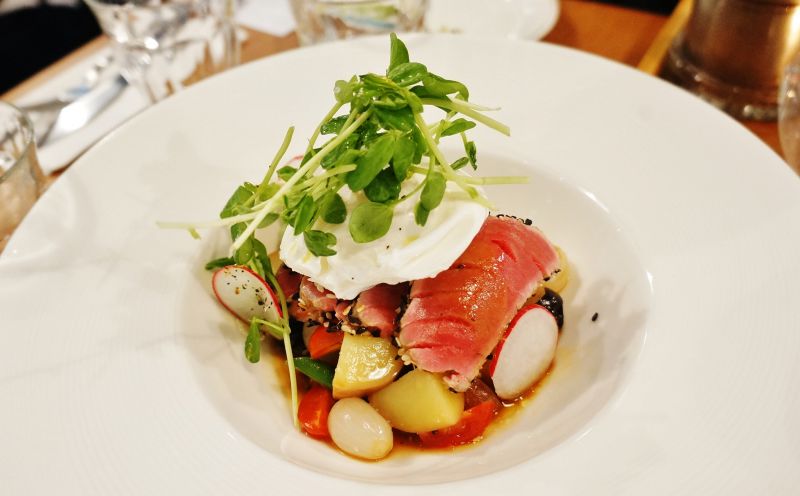 A refreshing Tuna Tataki Niçoise Salad ($15.90),
tossed with fresh cherry tomatoes, pickled white onions, pea sprouts, wasabi dressing made in-house, and a perfectly-poached egg.

Beetroot Salad ($12.90),
A colourful combination of tastes and textures with fresh garden greens, smashed avocado, sundried tomatoes, artichoke, red turnip, pistachio, croutons and house dressing.
Thereafter, get ready to savour one of the mouthwatering Strangers' Reunion All Day Breakfasts:

Ocean Trout on Hash ($21.90) with petit salad and a poached egg.
The potato hash and trout is complemented with savoury bagna cauda, a traditional Italian sauce made from anchovies, garlic and cream.

An excuse for you to have steak anytime of the day with the, Breakfast Steak ($23.90).
 Truly in Breakfast style, the dish is accompanied by braised chick peas, apple fritters, petit salad and a sunny-side up.

A palette of colours in Beetroot Corn Fritters ($17.90, or $21.50 with bacon)
Bringing out a unique blend of flavours with arugula, beetroot, corn, tomato relish, Za'atar spiced poached pear, and a poached egg.

Italian Pork, spiral and Bockwurst Sausages & Hash ($23.90)
Accompanied by sour cream, petit salad and a sunny side-up for a refreshing twist on Bangers & Mash for brunch.

Freshly Shaved Proscuitto Benedict ($19.90)
 with anchovies, crisp parmesan chips, petit salad and country bread.

House Smoked Salmon Benedict ($18.90)
Is another Benedict bearing the Strangers' Reunion touch – Garnished with hazelnut béarnaise crafted by chef Daniel Chin, feta cheese, walnut crumble, petit salad and sultana bread.
Once fully satisfied with your mains, don't forget that some stomach space is necessary for sweet treats:

The vibrant and colourful Berry Ricotta Hotcake ($18.90),
Featuring a generous serving of a soft and fluffy hotcake, served up with fresh berries, pumpkin seeds, sunflower seeds and vanilla bean ice cream.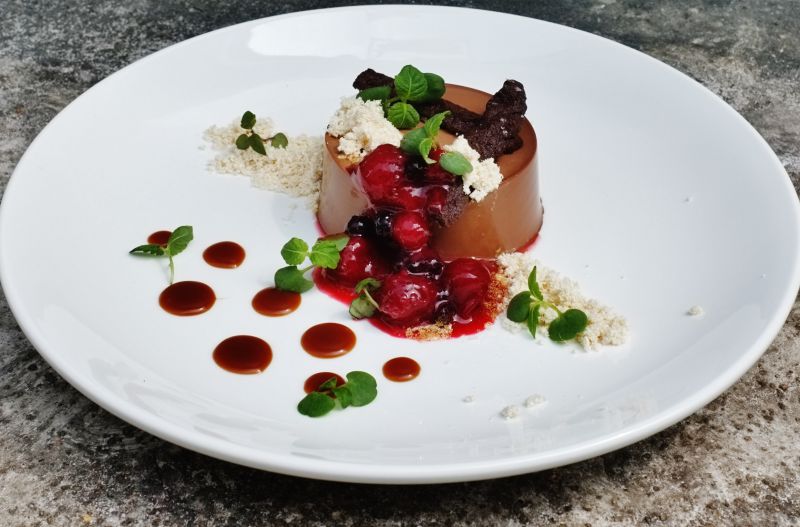 Smooth and flavourful Chocolate Panna Cotta ($16.90)
Drizzled with homemade berry compote, walnut-infused gold dust, salted caramel and the perfect touch of dark chocolate sables.

The signature Strangers' Reunion Buttermilk Waffles ($12.90)
Famed for being just the right amount of crisp on the outside, and soft and fluffy on the inside. Topped with fresh fruits and your choice of vanilla bean ice cream or greek yogurt, this is the dessert that will complete your meal.
Better still, be adventurous and try a waffle from Waffle Slayer
Strangers' Reunion's dedicated waffle and specialty coffee bar next door. With savoury waffles such as the Squid Ink Waffle with Dijon Maple Bacon and Pistachio Tuile, and sweet items like the Banana Brûlée Buttermilk Waffle with Walnut Crunch, you will be spoilt for choice.
After the delectable meal, end your meal with Strangers' Reunion's most popular coffee – Magic ($5.50)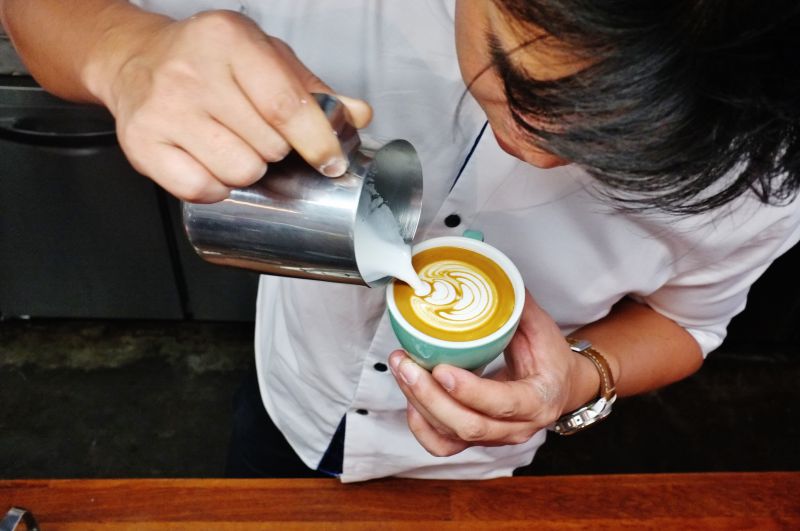 A double ristretto with milk. Known as the shot for purist baristas, a ristretto is the first 20 seconds/20 milliliters of an espresso shot – it brings a lot more aroma and sweetness, cutting away the caffeine and bitterness that comes towards the end.
To epicures and the curious: come, revel in the delights Strangers' Reunion has to offer. We know you want to.