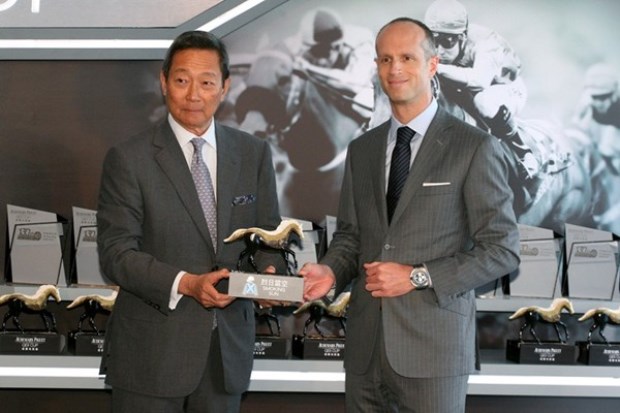 Dr Simon S O Ip, Chairman of The Hong Kong Jockey Club and Mr David von Gunten, CEO, Greater China of Audemars Piguet officiate at the barrier draw of Audemars Piguet QEII Cup
The barrier draw for the 2015 Audemars Piguet QEII Cup was held on April 23 by the Hong Kong Jockey Club, with last year's champion and Hong Kong's Horse of the Year 'Designs On Rome' drawing stall 11 for the HK$20 million feature. Fellow leading fancy, Australia's 'Criterion', drew gate one, right against the fence, while Japan's 'Staphanos' will break from berth five; everyone's favourite globe-trotter 'Red Cadeaux' of Great Britain drew gate nine and 2013 winner 'Military Attack' from Hong Kong, will start from stall two.
France's 'Smoking Sun', trained by Pascal Bary, was drawn in gate 10, while the Andreas Schutz-trained 'Packing Llaregyb' of Hong Kong will break from stall six in the 12 runner field. Trainer John Moore was content with 'Designs On Rome's' lot – and that of stablemate 'Same World' who was drawn widest of all in gate 12 – and was thoroughly pleased to see his third runner, 'Helene Happy Star', draw gate four. Hong Kong's 'Blazing Speed', 'California Memory' and 'Helene Super Star' drew stalls eight, seven, and three respectively.
"Designs On Rome doesn't want to be cluttered up and from gate 11 he'll just go back to the last four, as we know; and from gate 12, Same World, we know he has speed so the thinking is he'll go on…Drawing gate four will give Helene Happy Star an opportunity to get cover early, probably midfield, and be tracking horses like Military Attack or even Criterion. Hopefully he should be getting a good run one or two off the fence." said trainer John Moore.
For a full list on the stats of the runners click here.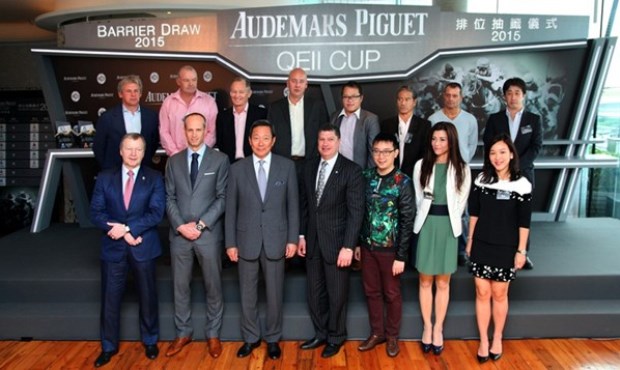 Connections of AP QEII Cup runners and officiating guests pose for a group photo