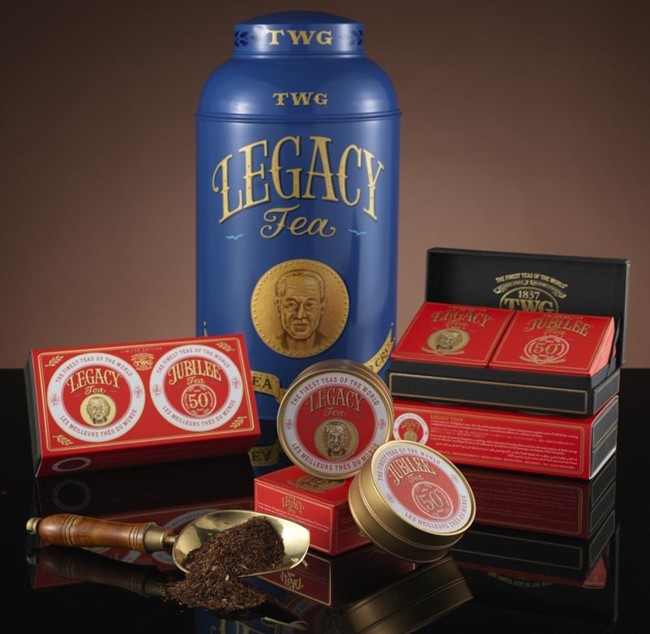 TWG Tea, celebrates Singapore's 50 years of independence with a limited edition Heritage Tea Set, marking the nation's golden jubilee as a bustling and vibrant cosmopolitan city. The exclusive tea set, hued in auspicious red, is composed of two handcrafted teas presented in signature 50g tea tins encased in an exquisite gift box. The Legacy Tea is composed of a rich Chinese oolong accented with notes of wild lychee, a delightful juxtaposition of strength and refinement and an ode to the great achievements of Singapore. The Jubilee Tea is a new and refreshing theine-free reinterpretation of Singapore's age-old "teh tarik", a blend of red tea, rich vanilla beans and sweet and spicy gingers which yields a complex cup with a sweet and lingering aftertaste.
The perfect accessory to enhance your tea service during this celebratory season, the Lion Teapot was specially crafted by hand in gold and silver to dress your tea table. This magnificent teapot is one-of-a-kind, with only one, unique piece available in each precious metal – available exclusively at TWG Tea Gardens at The Shoppes at Marina Bay Sands.
Finally, what better way to whet the nation's appetite than with the TWG Tea SG50 exclusive set menu featuring a luxurious twist on a local favourite; chicken rice infused with precious Yellow Tea Buds, served with succulent French Challans chicken thigh slow cooked in a brine of pandan leaves and ginger, accompanied by crispy chicken skin, fresh cucumbers, coriander leaves and an artisanal citrus chilli sauce. Round off the celebrations with white chocolate and lemon entremet layered with strawberry marmalade infused with Happy Birthday Tea and dressed with ornate stars and moon.
The Heritage Tea Set retails at S$60 and is available at all TWG Tea Salon & Boutiques in Singapore from June 8. TWG Tea is pledging part of the proceeds to Community Chest in support of Care & Share Movement for the social service sector, in celebration of SG50. The Lion Teapot retails at S$5200 while the TWG Tea SG50 set menu is priced at S$50 and is available at all TWG Tea Salon & Boutiques except Republic Plaza, from August 7-10.