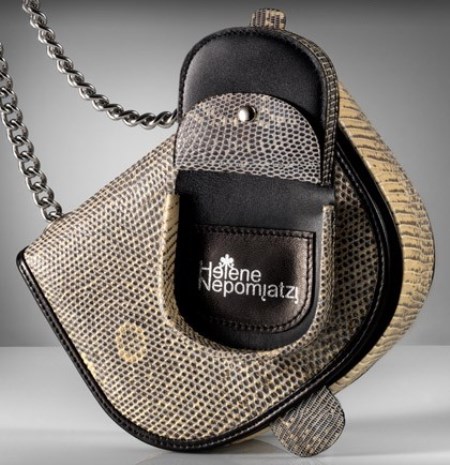 For the first time, veteran designer Helene Nepomiatzi has used her own namesake for her new collection of handbags, and she continues the same obsession with cinematographic references with the first-born in the Helene line, GRISBI.
GRISBI takes its name from the 1954 French film, Touchez pas au grisbi, which aptly means "Don't Touch the Loot". A tiny purse big on its pockets, it has an outside cell phone pocket while the inside fits a woman's essentials comfortably. Made from natural lizard leather, a silver chain completes its untouchable, refined air.
Nepomiatzi has called the new collection a "rebirth", and she has played around with traditional leather conventions and a bag's function to create GRISBI. It is now available at Maria Luisa in Paris, with new versions set to launch in October.