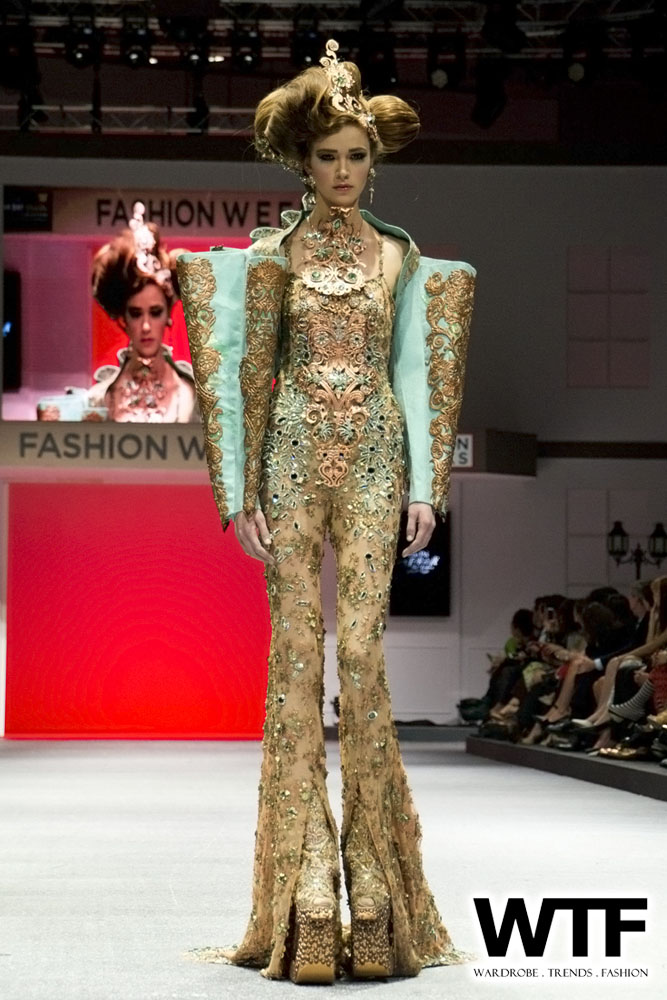 The fashion world has not seen anything yet if they have not attended a show by renowned Chinese couturier Guo Pei. In the front row, there were hysteric whispers from a varied clientele of local socialites (hello Dick Lee) and individuals from as far as Kuwait. Other prolific designers such as Sebastian Gunawan and Yumi Katsura are spotted waiting ardently to catch a glimpse of the action.
This is a definite shoo-in for one of the most anticipated runway shows in Fide Fashion Weeks 2013, with what was the evolution of Chinese Haute Couture.To the unwitting outsider, Guo's works are elaborate costumes that conjure narratives from unspoken legends of mythical creatures and enchantresses. A keen eye would spot the various references that thread vaguely between avant-garde and theatrical costume mastery.
Guo has entrenched us with tales from the mystic East, The Arabian Nights. She has been engaged with this world since the Legend of the Dragon, and has used this creative endeavor as guiding spirit to her designs.
Full on embroidered gowns, trains that stretch snake-like across the runway and steeple-high platforms make up the iconoclast mock-geishas that slither down our way.As she proved tonight, she certainly won't settle for anything low-key. Guo's obsession with theatrics was translated into reverse silhouettes of lotus blooms with crystalline corsets, medieval regalia and porcelain folds.
More than a thousand Arabian nights, Guo weaves a tapestry from history to abstraction. There's some form of cathartic process that one soaks in when observing this procession. And in the midst of it all, we conceive the legend that is Guo Pei herself.
Photography by Christopher Tan