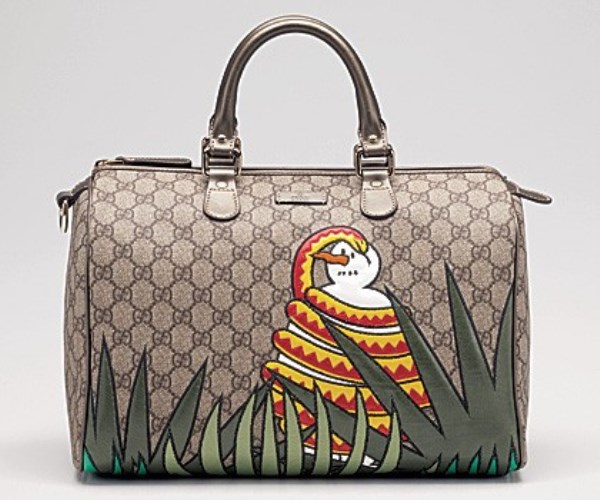 Gucci is sharing some holiday season magic with the African children with its annual Gucci Campaign to Benefit UNICEF. 2009 marks the fifth year anniversary of this campaign.
This year, Gucci has teamed up with Michael Roberts, acclaimed author and illustrator of the popular book, Snowman in Paradise, published in 2004. For the benefit of Gucci's campaign to help African children, Roberts has written a sequel aptly titled Snowman in Africa.
The book will be sold exclusively at Gucci boutiques and Gucci.com for USD25 each. For this initiative, 100% of all proceeds will go to UNICEF.
In addition to the book, Gucci's Creative Director, Frida Giannini has also designed a series of accessories and gift cards inspired by Roberts' whimsical illustrations. Two unique designs are featured on medium sized Gucci Joy handbags. One is a leather patchwork detail with gold trim while the other is a sportier jungle themed print.
This charity campaign collection also includes charms inspired by characters from Roberts' book and small leather goods such as a wristlet and coin purse decorated with the same prints found on the Joy handbags.
Special edition gift cards are a new addition in this year's campaign. Printed with Roberts' illustrations, their values range from USD50 to USD5000.
Twenty five percent of all proceeds from Frida Giannini's charity collection will go to UNICEF. They will be on sale in Gucci stores in more than 20 countries from 16th November to 31st December.
The annual Gucci Campaign to Benefit UNICEF has committed over 7 million in the five years since its inception. It helps to support education, clean water and healthcare programmes in HIV/AIDS affected areas in Africa. Gucci is currently the largest corporate donor to UNICEF's "Schools for Africa" campaign.