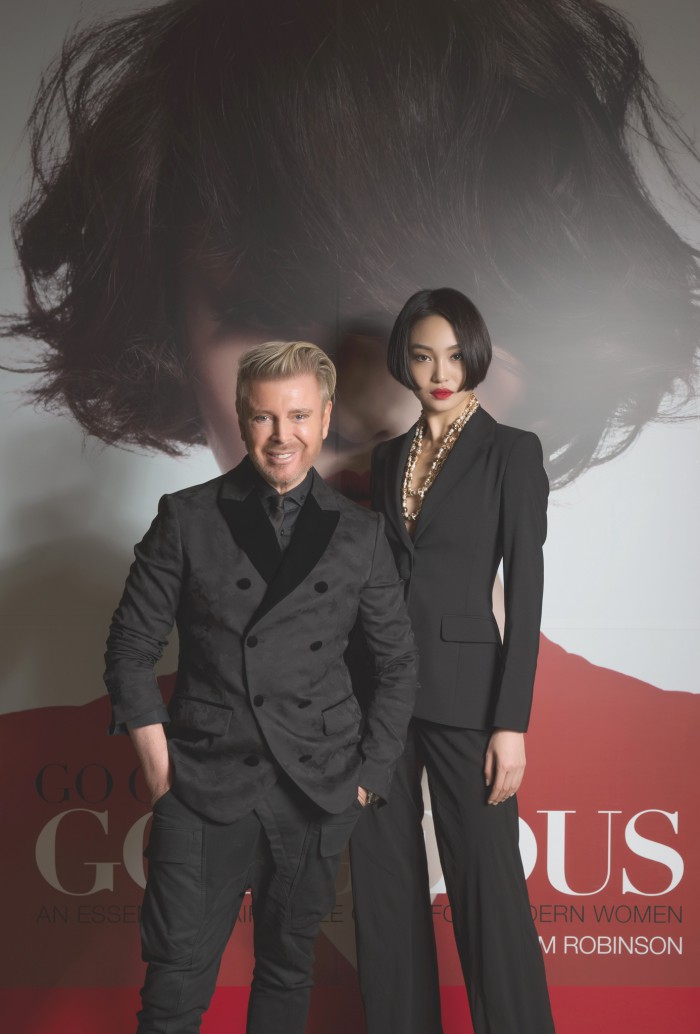 Kim Robinson and August Zhang at the 'Go Get Gorgeous' By Kim Robinson Book Launch
It's bustling in Kim Robinson's salon, the kind of buzz that rings in your ear faster than you can say follicle. I am ushered into a private room for special guests, and have settled into a $10,000 armchair, nestled between acrylic paintings (a Kim original possibly?) and mobile partitions, when suddenly: Whoosh! In comes the man of the hour. Forget opulent long tables and showy Hollywood dress mirrors; before me sits an icon comfortably perched on a stool. He sends his regards, quickly whisks an attendant off for drinks as we delved into a heart-to-heart chat on his latest projects. Kim thoughtfully rejected my suggestion to swap seats before we start.
The powerhouse recently launched his second book at the whopping 5,400 sqft. Ngee Ann City branch in Singapore, having successfully planted it on the book shelves in Hong Kong a month back. Entitled Go Get Gorgeous, this pictorial cum retrospective lookbook dishes many nifty hair ideas, littered with pearls of wisdom on hair care. "There are many tips in there and things that are related to an Asian woman," he says. "It gives you a lot of references that you can take to your hairdresser to try."
For the past few decades – ever since the christening of the Robinson cut into the annals of hair history – every single head from the late Princess Diana, to Canto-pop veteran Sandy Lam and of recent times, pop singer Rita Ora has been unmistakably timeless and memorable. "I know where's their good point, and let's expose them and bring it to life – that's the magic of what we do at Kim Robinson," he says. "It's all about femininity." Fame has clearly not clouded his judgement: He was quick to add in keeping with the times, one does not need to conform to trends. When quipped about what is fashionable at present, he expounded. "We don't do weird, we don't do funky. We don't shave the girl's head and give her a tattoo. We're all about beautiful hair that doesn't go out of fashion."
The 'Go Get Gorgeous' By Kim Robinson Book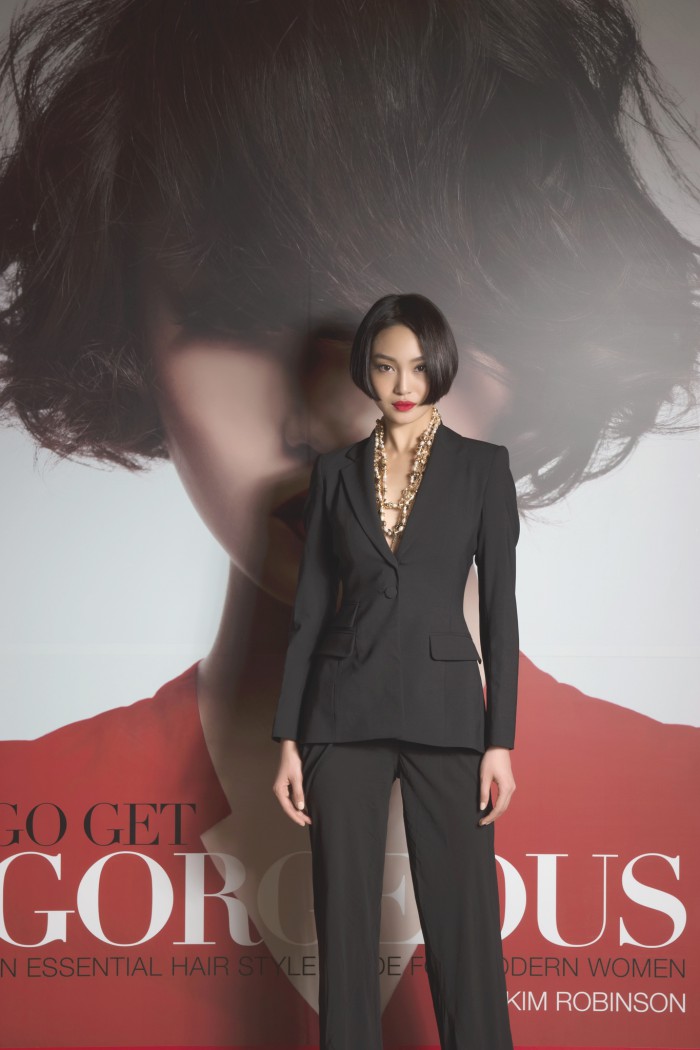 August Zhang at the 'Go Get Gorgeous' By Kim Robinson Book Launch in a black suit
Suddenly, his assistant chimes in with a gentle nudge of a reminder – August Zhang, his muse is waiting in the other room. Kim peeps at the doorway for a split second and then looks at me. "Sorry, give me a moment. You have to meet August when she is done" He takes off. August is the girl on the book cover. She is not your everyday chica turned model. Her journey to fame skyrocketed after a bold move to chop off her tresses led to bookings by Calvin Klein and L'Oreal Paris. In a few days, the Wilhelmina-represented model will fly back to New York, where she will continue her uphill climb to a star-studded charmed life. This was the catalyst that sparked the inspiration for Kim's sophomore book.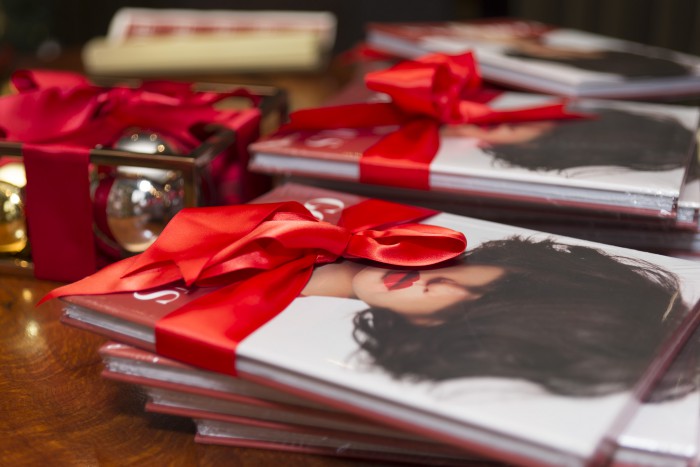 Kim returns with his entourage and promptly introduced the Nanjing-born lass. Being Robinson's muse was perhaps the most liberating experience of all. In keeping with the storied tradition of modelling dry spells and a confrontational call with her agent, Kim and August have a trusting working relationship, one that, according to August is built first on faith in Kim and second on her fervour to try new things. What transpired was a miracle in the modelling industry.
The bruising honesty of this hard truth of a model's arduous path – and the undying fear of short hair in most women, fat-face phobia and all – echoes through the salon's deep walls that run forever. Amid the inner turmoil one struggles to transcend, there is a glimmer of hope to Kim's ferocious approach that questions the quintessence of good hair, and the importance of a life-altering experience to the salon. The rabble-rousing spirit in August gets stirred up as she recalls her epiphany. "It is the magic of Kim's touch. He is able to bring out that confidence in me. And when I looked at myself in the mirror, it was not one of uncertainty but of freedom and possibilities."
As we sat in the room, tucked away from the outside commotion, I sensed this episode is just the tip of the iceberg. Kim has spent his formative years toiling away in search of an effortless, glorious coiffeur. And maybe, just maybe, Kim has discovered the holy grail of hairdos. At 59, the maestro's boyish mug doesn't look a day past 45. Everyone should take a page from Kim and ask yourself: When was the last time you felt gorgeous? You will find it between the pages.
Go Get Gorgeous: An Essential Hair Style Guide For Modern Women by Kim Robinson is available at Kinokuniya and all major bookstores, retailing at $48.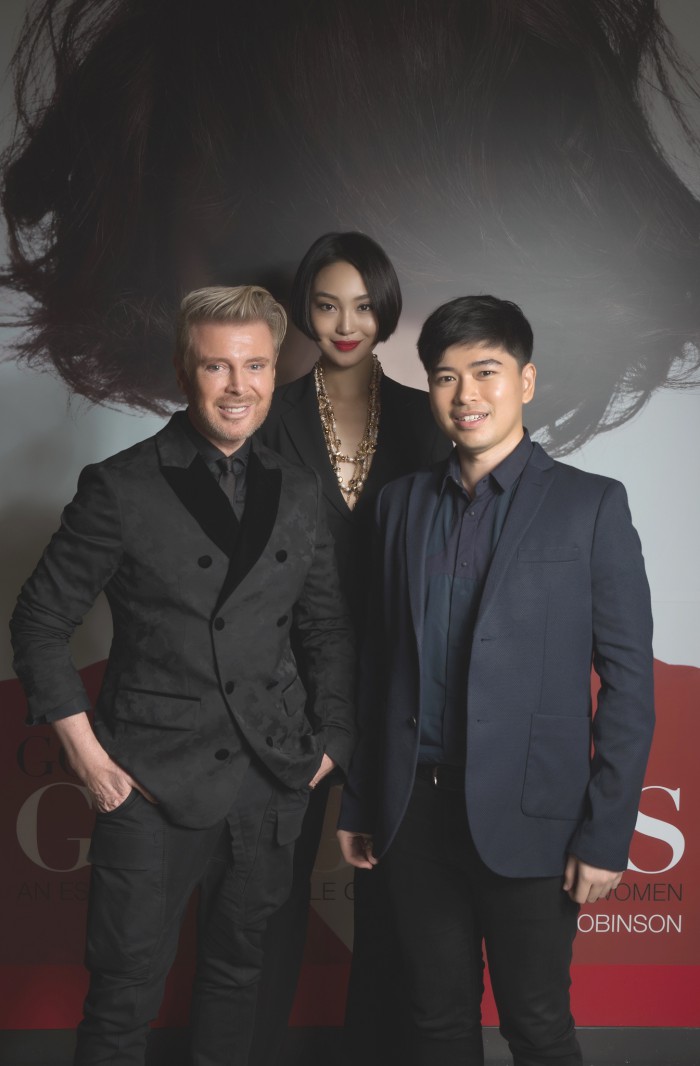 (L-R) Kim Robinson, August Zhang, Ian Loy
(Photo Credits: WardrobeTrendsFashion/Leon Mah)