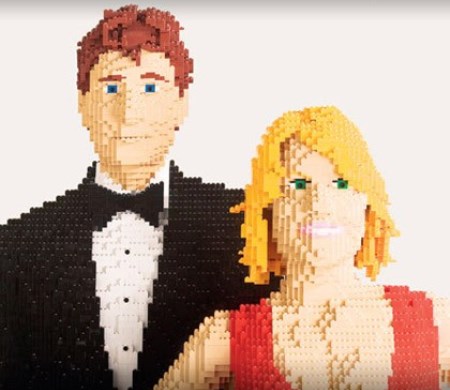 It looks like Madame Tussauds could be facing a little competition, but instead of wax figurines, think LEGO bricks. For $60,000, LEGO artist Nathan Sawaya will present you with a life-size LEGO brick replica of yourself.
Neiman Marcus has commissioned Sawaya to make 2008 His & Hers Life-size Lego Replicas – one of NM's gift ideas in its 2008 Christmas Book. All it takes is eight full-body photographs and eight images of one's face from different angles, plus about 15,000 to 25,000 individual LEGO bricks for Sawaya to make a life-size replica of any individual who wishes to see an 8-bit version of themselves.
Sawaya is one of only six certified Lego professionals in the world. The process is a sculpting process and there is no digitizing. He works straight from the photos provided, and some of the life-size replicas he has created include actor Stephen Colbert.
In fact, with 1.5 million LEGO blocks filling his New York apartment, Sawaya can sculpt anything, such as a full-size Tyrannosaurus Rex skeleton or a seven-foot-long scale replica of the Brooklyn Bridge.