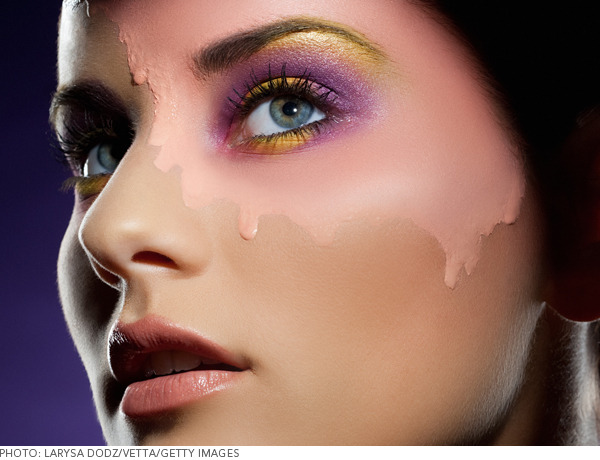 When it comes to shopping for face makeup, there's really one "rule" to abide by: The color should match the face or neck as close as possible. Easier said than done, right?
The future does seem bright as game-changing, skin-matching devices launch (Pantone, we totally called it!). But before that kind of technology goes global, foundation matching is still relatively trial-and-error—research, test, and repeat. Hopefully, these basic guidelines will help you find your complexion's holy grail.
STEP 1: CHOOSE IN TRIPLES
First things first—you should never purchase a full size bottle of foundation without testing a sample. Luckily, makeup counters are quite generous, so take advantage of the samples. Always test three colors in each foundation range you want to try. Why? Because looks are always most deceiving in the bottle.
Use a sharp eye and some hand-swatching to discover what you believe will be the closest shade match. Then, ask for samples of the two surrounding colors to take home as well. Test all three on your skin—the shade that disappears into your complexion is usually the best fit.
STEP 2: APPLY AS USUAL
From there, apply your chosen foundation sample over any primer, moisturizer, or sunscreen you normally wear. You need to assess how the color performs with an already established skin care routine. If the texture or durability just doesn't feel right, something has to go.
STEP 3: LOOK AT THE LIGHT
Department store lighting is the worst for makeup shopping (seriously—how have the makeup counters not addressed this yet?!). Best makeup counter thus far I commend is MAC Cosmetics.  Always look at a foundation swatch in natural light. The color should blend seamlessly depending on the season, and it's the only way to tell if you've got a contender.
STEP 4: GIVE IT TIME
Like copper transforming into patina, foundation has the tendency to darken over the day in a chemical reaction called oxidation. It happens with a lot of formulas—the color you think is a perfect match in the morning may turn a nasty shade of tangerine come lunch time. Always wear your sample for an entire day before committing to a full size.
Do you have your own scientific method for testing and buying foundation? Share your tips below!