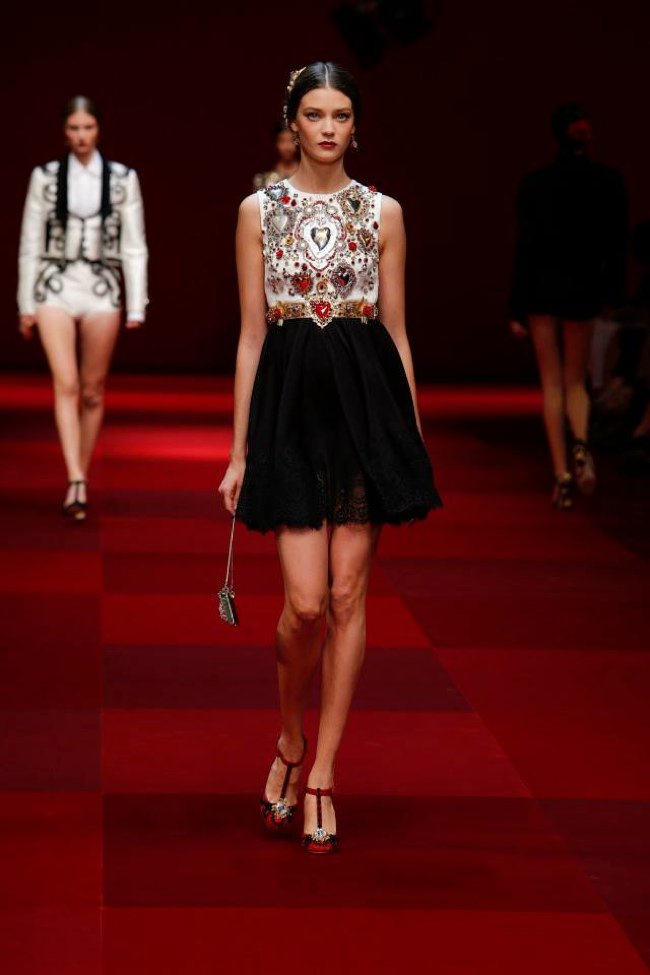 "The Dolce & Gabbana Women Summer 2015 collection was inspired by the heritage of the Spanish culture on Sicily's history. The Sacred Heart was the main symbol of the collection and it is found embroidered or printed on most of the pieces. The choice of the carnation was made not only because it is a flower that recalls the Spanish tradition, but also as an homage to Mr. Dolce's mum, as it was her favorite flower."
The new Dolce & Gabbana woman this season is strong, seductive and passionate like the explosion of love that is compared to the eruption of a volcano (Sicily's Etna). Mr. Dolce and Mr. Gabbana's challenge was to convey the Spanish influence in a non-conventional and literal way.
There were roses and tiaras and dolls in paper boxes that matched the ensembles of their carriers. There were even scarves handed out to attendees as souvenirs, in lipstick-red envelopes. But it was a pair of shoes with windowed, shrine-like heels that was something worship-worthy.