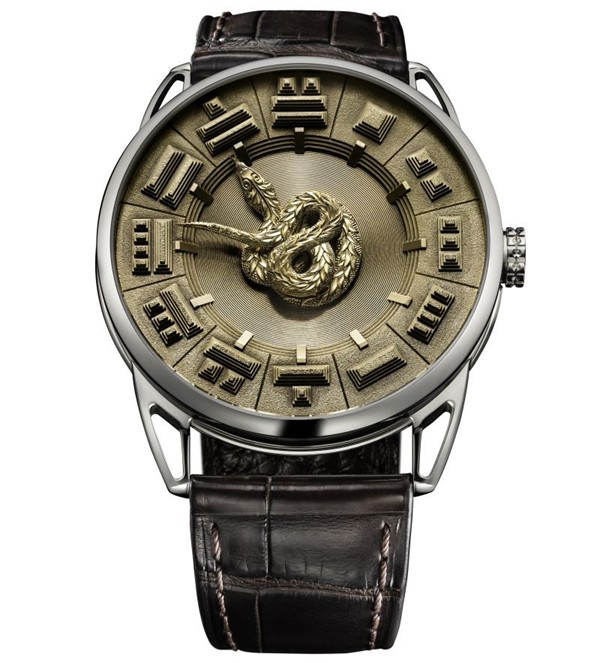 Quetzalcoatl is a composite name in the Nahuatl language derived from quetzalli – used to describe the large, precious green feathers of the sacred quetzal bird – and coatl – meaning snake. It is one of the main divinities of the Mesoamerican civilisations and the feathered serpent, its most iconic incarnation, reigned for many long centuries over pre-Columbian America. Stemming from an age-old tradition of artistic crafts and engraving, the solid gold dial of the DB25 Quetzalcoatl, exquisitely fashioned by the gifted engraver Michelle Rothen – based on drawings by David Zanetta – is a natural continuation of De Bethune's founders' research and exploration.
The symbolic unity around Quetzalcoatl, formed by the sculpted solid gold hands, takes on an almost mystical aura and enlivens the heart of the dial that constantly evolves in tune with the passing of time. The latter is read off by the tip of the serpent's head, while its tail indicates the minutes. Quetzalcoatl appears coiled in the centre of the model in varying positions in step with the ever-changing times of day. This fascinating vision, magnified by the microlight finishing on the dial centre, endows this creation with exceptional depth and mystery.
The aesthetic construction gives pride of place to an element that is steadily becoming the unmistakable hallmark of the Manufacture: research on materials and the way light reflects off their finishes – at time radiantly glowing like the circular guilloché motif on the central part; and at others matt, such as the soft patina on the hour indicators formed by a series of temples viewed from the sky.
The various finishes of the mirror-polished bridges adorned with De Bethune decorations highlight the silicon heart of the patented annual balance of Calibre DB2005, alongside a number of innovations and patents from the Manufacture. This mechanical hand-wound movement beating at a frequency of 4 Hertz is equipped with a self-regulating twin barrel ensuring a 6-day power reserve, the famous triple pare-chute shock-absorbing system protecting the regulating organ, a silicon escape-wheel and a balance-spring with flat terminal curve ensuring optimal concentric development.