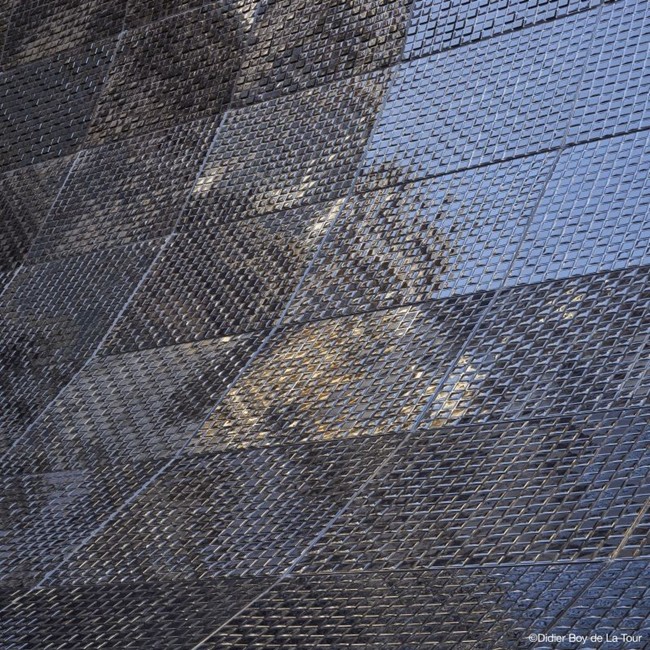 Clé de peau Beauté recently announced the opening of "Reverberation – Pavilion of Light and Sound," designed by Shigeru Ban. The pavilion was on view on May 8 and May 9 at the Palazzo Pisani Conservatory, one of the most refined historical buildings in Venice, Italy. This schedule coincides with the Vernissage of the 56th Venice Biennale. This project, by producing a pavilion designed by Shigeru Ban, one of the most renowned architects, is a collaboration to take on new creative challenges.
In creating the pavilion, Shigeru Ban was inspired by the "Lights of Venice" theme of Clé de Peau Beauté's 2015 Autumn/Winter Collection, and has created a design that is a dynamic but delicate expression of the brand concept. Light filtering through makeup cases used in constructing the exterior walls combines exquisitely with vibraphone, violin, flute and other music floating through the pavilion performed somewhere by live musicians. Together, the light and sound weave a fascinating, poetic atmosphere.The lighting design for the pavilion is by Akari-Lisa Ishii, and acoustic consultant Daniel Commins handled the sound design.
Fusing the contradictory elements of the historic building and contemporary pavilion design, the project could only have been achieved at this venue. The unique pavilion space enables visitors to experience the mysterious light and shadows of Venice in conjunction with a musical performance.
"The first time I saw the palette of clé de peau BEAUTÉ, the dark blue colors looked to me like a tile that reflects and absorbs light. So I've taken this case and stuck them on both sides of the acrylic sheets, spaced in 9 mm gaps, just like tiles. They reflect light, and make darkness in the interior and through the spaces between them, a wavering light which is characteristic of Venice, flows into the structure reflected from surface of the water functioned as a fixed weight." explained Shigeru Ban.