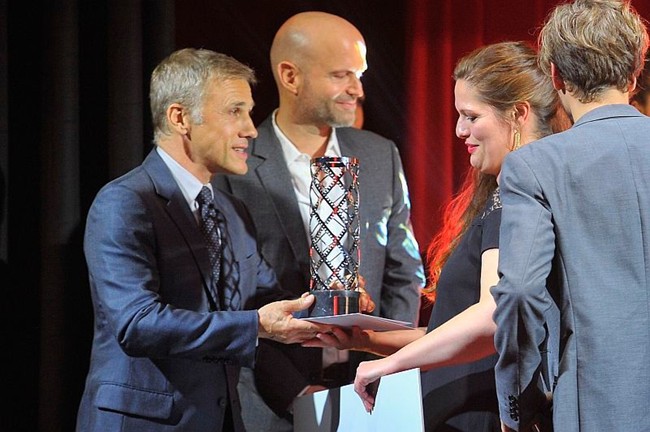 Oscar winner Christoph Waltz presented the first-ever Filmmaker Award at the IWC gala dinner held as part of the 11th Zurich Film Festival. From the four nominated films, the jury picked two winners: "Und morgen seid ihr tot" ("Tomorrow You'll Be Dead") and "Europe, She Loves". The Swiss luxury watch manufacturer had invited some 200 VIP guests from the worlds of film, media, art, politics and commerce to the event. The award, worth CHF 100,000 in sponsorship, was set up by the Association for the Promotion of Film in Switzerland, which was co-founded by IWC CEO Georges Kern. Two-time Academy Award winner, Christoph Waltz shot to fame with roles in "Inglourious Basterds" and "Django Unchained" by the American cult director Quentin Tarantino.
"I am proud to be here in person to present this award, which is very important for the Swiss film industry. Providing sponsorship for filmmakers is a necessary and relevant task, one which makes a significant contribution to the diversity of Swiss film," said Christoph Waltz.
The main prize of CHF 75,000 went to producers Bernhard Burgener and Norbert Preuss and to director Michael Steiner for their project "Und morgen seid ihr tot". The film tells the true story of two Swiss citizens, Daniela Widmer and David Och, who were kidnapped by the Taliban in Pakistan in July 2011 and succeeded in making a spectacular escape after eight months spent in captivity. Shooting is planned to start in February 2016. The film will be directed by Michael Steiner, known for his works "Mein Name ist Eugen" and "Grounding".
In addition, a prize of CHF 25,000 was awarded to producer Lisa Blatter from 2:1 Films for her project "Europe, She Loves". The film, which is directed by Jan Gassmann and is now in post-production, portrays five couples forced to draw deep on their reserves of wit and love as they struggle for everyday survival in a Europe shaken by the economic crisis.