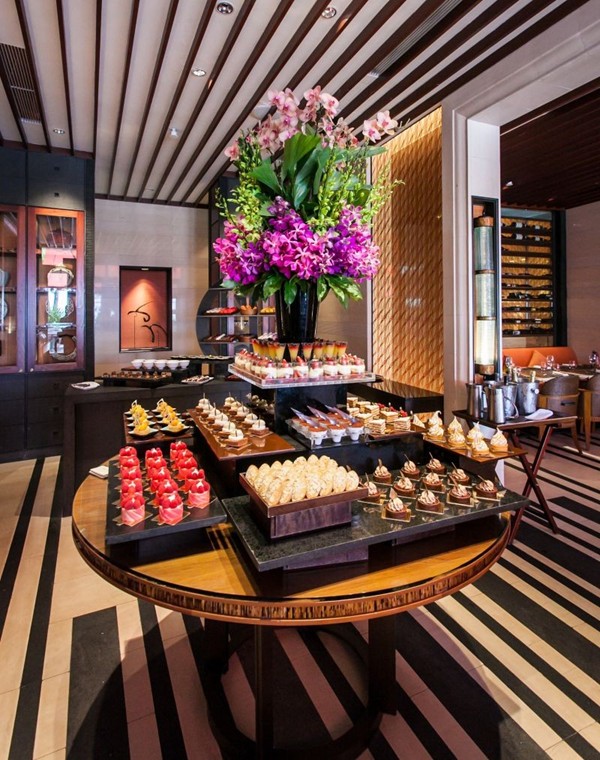 The Knolls at Capella Singapore invites you to enjoy Singapore's most luxurious chocolate and tea experience this festive season. Guests are invited to feast their senses on a concert of flavours and embark on an unforgettable sensory journey thanks to a collaboration between Capella Singapore, Valrhona – the world renowned French chocolate confectioner – and the Gryphon Tea Company.
The Chocolate and Tea Experience will take place every Friday evening at The Knolls for six weeks, starting November 21 through to January 2, 2015, from 6:30pm to 10pm. Guests will be charmed by a range of delectable delights that include selecting their preferred tea blend with a Gryphon tea sommelier to discovering the intricacies of the finest dark, milk and while chocolate varieties with a Valrhona Chocolatier. The Chocolate and Tea Experience will also feature an extravagant array of innovative Christmas-themed pastries, tarts and cakes that have been brought to life by CapellaSingapore's Executive Pastry Chef Chek Yong Sam and his talented team of Pastry Chefs.
Connoisseurs and novices alike can discover the complexity of Valrhona's chocolate profiles while understanding the commitment that goes beyond producing the world's highest quality cocoa. During this intimate epicurean affair, guests will have the opportunity to preview Valrhona's two holiday lines: Macae, a dark chocolate characterised by its exceptional melting smoothness with its woody, peppery and toasted aromas as well as the Bahibe, a milk chocolate that offers intense notes of cocoa before revealing a fruity tanginess. Gryphon Tea will also be launching three limited-edition festive flavours which include the Winter Love black tea featuring notes of forest berries, nutmeg, blue flowers and vanilla, a Strawberry Champagne fruit tisane with an irresistible sweet temptation of sparkling champagne, and a Chocolate Gingerbread rooibos tea that blends pure cacao, ginger and a hint of creamy caramel.