Tiara in platinum, set with brilliant-cut diamonds, of which eight with 5.50 carats (Set 6)
Chaumet's Lumieres d'Eau collection (Set 6 & 7) is a true technical prowess thanks to the savoir-faire of a Maison founded in 1780 and passed on from one workshop master to another for 234 years. At 12 place Vendôme, the creations reveal the art of speaking the language of emotion with eyes and hands. The collection features an ethereal set of diamond lace creations held by knife-edge threads, sparkle like stalactites and frozen rain.
The reinterpretation of the 1904 naturalistic stalactite tiara shines like a divine arch that fit to crown a snow princess while the secret watch dazzles in a cascade of diamonds.
Light-as-air assembling; the work obeys the laws of intuition and excellence so that each piece is both supple and structured. These shimmering creations, these flowing nuances, these marvels of asymmetry, all bear witness to the Maison's commitment to excellence. At Chaumet, each jewel expresses both construction and emotion, with the drawing as first and ultimate master.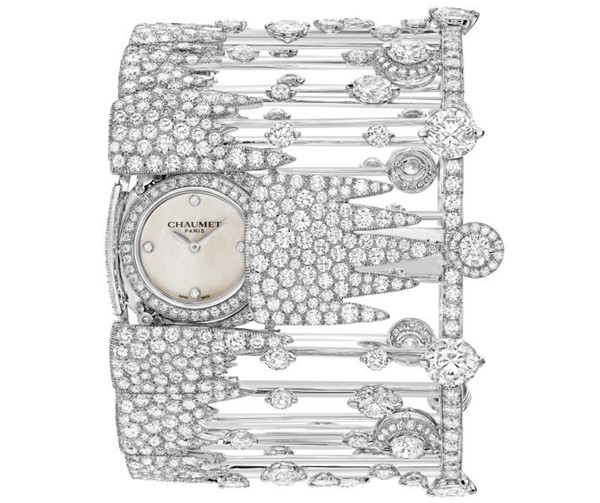 Secret cuff timepiece in platinum and mother-of-pearl dial, set with brilliant-cut diamonds (Set 6)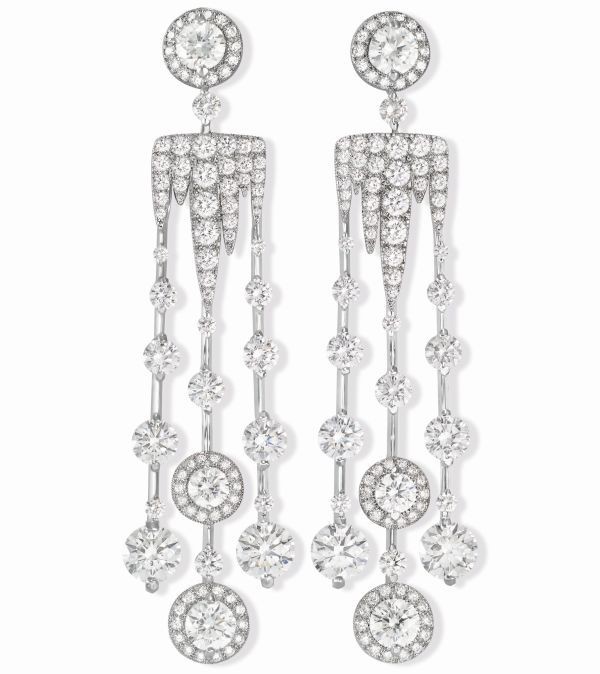 Earrings in platinum and white gold, set with brilliant cut diamonds (Set 7)

Hair ornament in white gold and platinum, set with brilliant cut diamonds (Set 7)
Necklace in platinum and white gold, set with brilliant diamonds (Set 7)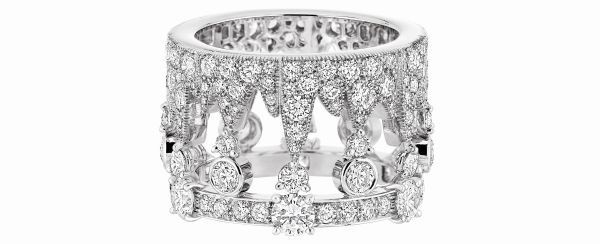 Ring in platinum, set with brilliant-cut diamonds (Set 7)