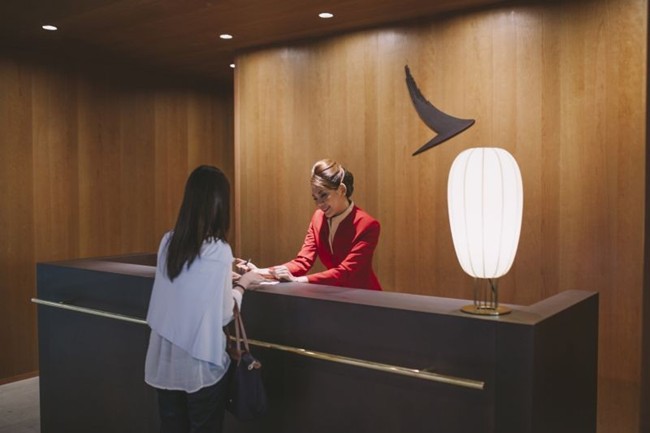 Cathay Pacific Airways has opened a new lounge for passengers travelling out of Bangkok Suvarnabhumi Airport. Located at Level 3 in the Concourse G Departure Hall, the all-new lounge adopts the airline's latest lounge design template that has been employed at Cathay Pacific lounges in Tokyo and Manila. Bangkok's new lounge measures 679 square metres – much larger than the previous lounge – with seating for approximately 140 people. The facility offers a comfortable environment, with an emphasis on understated luxury, where First and Business Class passengers can relax before their flight.
Designed by Studioilse, the London-based design studio led by Ilse Crawford, the aim was to bring to life Cathay Pacific's new design ethos, creating an environment that helps passengers feel relaxed, engaging the senses and focusing on wellbeing as a core principle. Judging by the looks of the new space, they nailed it. Warm, natural materials like wood and stone, soften the acoustics where possible and while the lighting takes a considered approach. Cherry wood walls and a limestone floor are framed with details such as glazed screens, green ceramic tiles in The Noodle Bar, bronze highlights in the main entrance and brass in the Bar. Lots of plants add color to the space while specially sourced artworks reflect the local culture.
The overall feeling of the lounge is of a domestic space, more like a living room than an airline lounge. Natural sunlight filters through the windows. Designer furniture and lighting have been carefully selected for practicality and comfort. Bespoke chairs and side tables with in-built lamps and sockets are placed by the windows where passengers can enjoy the view of the airport runway and beyond. The Bureau provides three individual workstations with dual operating system iMacs and printers. Not to mention, complimentary Wi-Fi access is available throughout the lounge.
With a greater focus on food and beverage services, the dining area features Cathay Pacific's signature The Noodle Bar, a popular attraction in the airline's world-renowned lounges at Hong Kong International Airport. It offers a selection of Asian noodles including wonton noodle soup and tom yam soup, freshly prepared by an on-site chef. In the mornings, until 11:00am, an authentic Thai breakfast is also offered. Another dining highlight is the Food Bar, where passengers can enjoy a wide selection of lighter items such as salads, pastries and other desserts. In addition, freshly blended cocktails and a variety of non-alcoholic drinks are served at the Bar.