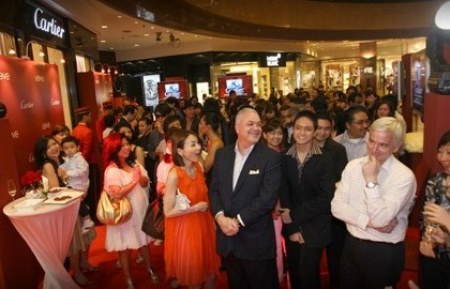 Cartier launched the full Love jewelry collection at their boutique in Singapore recently. Joining Cartier on this night were Singaporean celebrity couple Michelle Chia and Shaun Chen, as well as Malaysian songbirds Ning Baizura and Syafinaz Selamat. All were decked out in Cartier creations.
This also marks the maison's debut of their newest Love Charity bracelet in the Love Collection, which features two interlocking miniature versions of the original iconic Cartier Love Bracelet.
These miniature pieces in 18K rose gold and 18K white gold will be set into a knotted silk cord, available in various colors.
The bracelets will be sold for US$995 each, of which US$200 will be donated to charity. In Singapore, the charity involved is the Straits Times School Pocket Money fund.