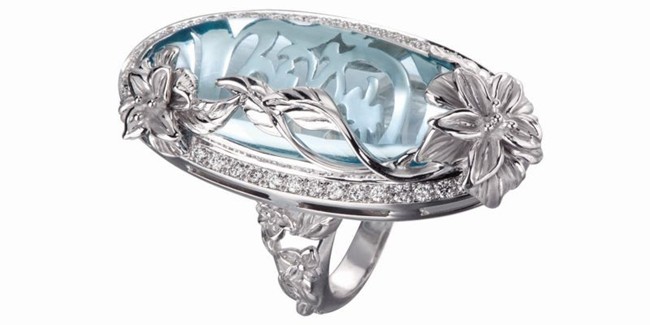 Carrera y Carrera presents its Emperatriz collection which exudes seduction, femininity and generous volumes. Inspired by the floral patterns of the Manila shawl, which is highly treasured in Spain, the collection mimics the colorful gardens of the varied flowers depicted on the shawl. Each flower encompasses different meanings: the rose represents a secret, the lily denotes purity, the thistle and the lotus are reminiscent ofChina, the cherry blossom signifies heroism and bravery, while the peony symbolizes the express.
The collection features exquisite jewelry pieces that are presented as flowers with petals of varying sizes that provide realism as well as volume. Interestingly, and perhaps not entirely by chance, the transparency of the precious stones reveal the painstaking work of the interiors of the pieces, creating a magnifying glass effect that allows each detail to be enlarged and appreciated in an extraordinary fashion.
The asymmetrical nature of some of the pieces where different proportions are visible, give the jewelry a sense of movement. The meticulously crafted and richly adorned parts allow the whole framework of each piece to be appreciated.