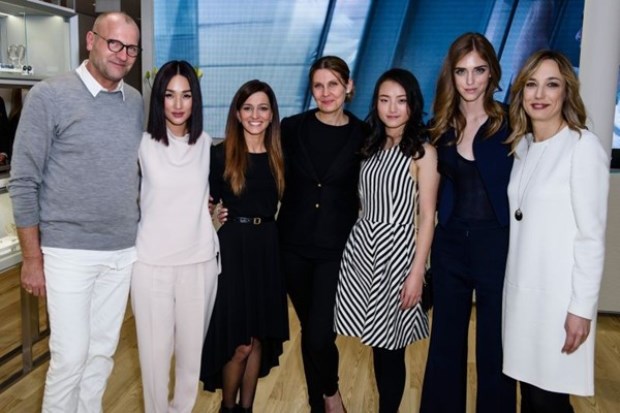 Calvin Klein Watch + Jewelry Co. Ltd., a joint venture between Calvin Klein and Swatch Group, recently hosted a special invitation-only dinner. The exclusive event was held at the cultural center, Brasilea Foundation in Basel, Switzerland. With Baselworld 2015, the world's largest watch and jewelry fair, in full swing, the event also featured a musical performance by the British singer-songwriter Birdy.
At the dinner, Laura Burdese, President of Calvin Klein Watches + Jewelry, revealed the three student winners of the watch and jewelry design competition launched last year with IED (Istituto Europeo di Design) in Milan, Donghua University in Shanghai and the Fashion Institute of Technology (FIT) in New York City.
The winners of the competition, Zhang Yi (China), Anna Hammam (USA) and Ilaria Tartarelli (Italy), presented a fresh vision and interpretation of the Calvin Klein Watches + Jewelry brand through creative use of material and design in keeping the brand aesthetic. The three winners received a cash prize and are having their work displayed at Baselworld 2015.
Judges for the design competition include Ulrich Grimm, Creative Director of Calvin Klein's Men's & Women's Shoes & Accessories; Ms. Burdese; popular blogger, Chiara Ferragni; founder of The Blonde Salad, model, blogger and creative director of Gary Pepper Girl, Nicole Warne – all of whom were in attendance at the event. For the evening, Ferragni and Warne, as well as Birdy, were all wardrobed in Calvin Klein Collection and the latest styles from the Calvin Klein Watches + Jewelry line.
The new 2015 Calvin Klein Watches & Jewelry lines presented at Baselworld 2015 were designed under the creative direction of Ulrich Grimm. Highlights from the 2015 Calvin Klein Watches + Jewelry lines include the lustrous and enduring Calvin Klein alliance watch, a linear construction rendered in polished stainless steel for a striking and graphic look.