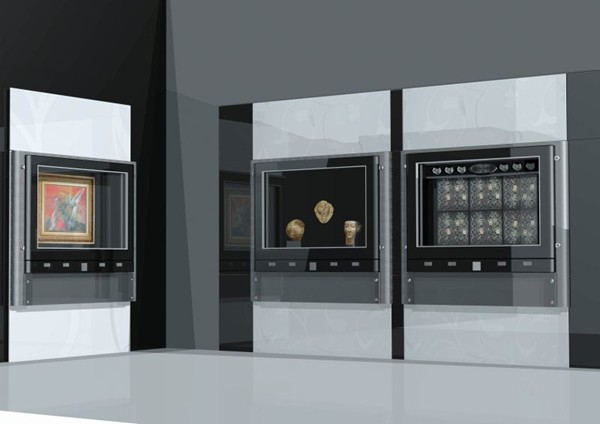 To house and display priceless artifacts, a Buben & Zörweg Private Museum assures serious collectors the ultimate joy from their most treasured possessions – be it a single Old Masters painting or a lovingly curated collection of watches, family heirloom jewels, historic cameras, fine art photography, objets d'art or bars of gold.
A unique system created by Buben & Zörweg, the first of its kind in the world, the Buben & Zörweg Private Museum is constructed from modular sections of stainless steel and high security glass with complex lighting specifically designed for displaying collectibles, enabling clients to commission a museum tailored to their unique setting and requirements. For some, this takes the form of an elaborate display for a standalone singular item, a priceless antiquity perhaps. For others, the museum is a gallery wall within a larger living space or library, while for yet others the museum is a room or sometimes two adjoining rooms dedicated to a family collection of objects acquired over centuries.
At once beautifully presenting and securely protecting personal treasures, the Buben & ZörwegPrivate Museum places security concerns at its heart. The glass vitrines of the Private Museum come in three options – two-way mirror glass which only becomes transparent when the lighting is activated, 25 millimetre thick transparent glass resistant to up to 100 hits with a large sledgehammer and fire resistant glass. A high security locking system, including a patented fingerprint locking system, has been developed by Buben & Zörweg's in-house safe experts and certified by the German authority for safe security, the VDS. Stainless steel walls are fire proof, while high tech laser grit offers additional security for when the glass window of the museum is open during viewing. An alarm can be integrated with the alarm system of the property.
"The Buben & Zörweg Private Museum concept is about building a dedicated space, usually in the intimacy of your own home, for celebrating and contemplating, protecting and presenting your most treasured possessions…One aspect of this is creating an inspirational place to show these items off to your friends and family. Another universal priority for our clients is security, and in true Buben & Zörweg style, we have thought of every eventuality. The Buben & Zörweg Private Museum is fireproof, bulletproof and at times, thanks to two-way mirrors, invisible." says Buben & Zörweg director Christian Zörweg.