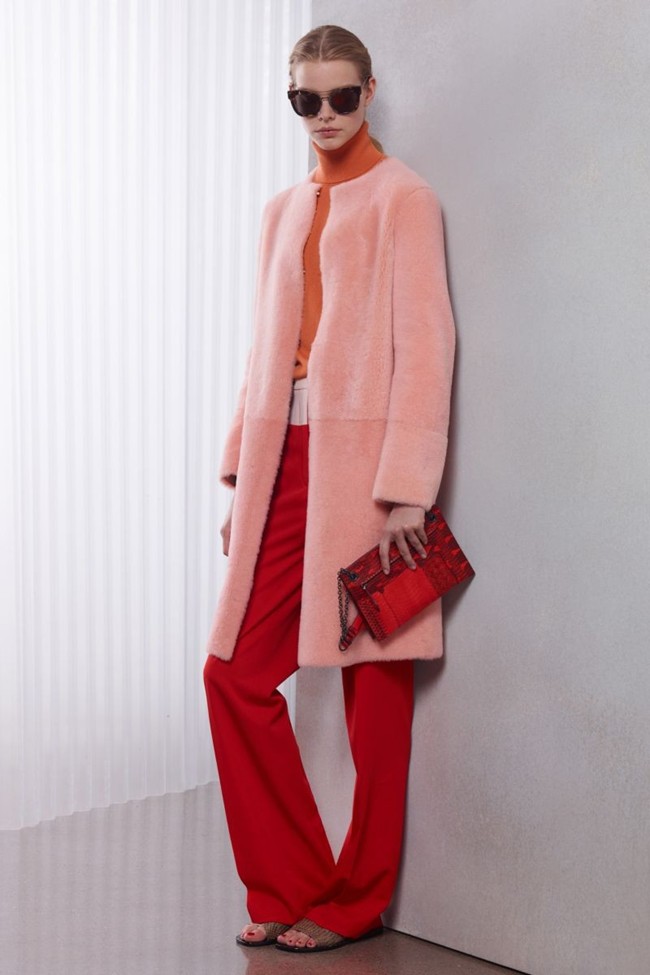 For Cruise 2015/2016, Bottega Veneta presents a women's collection emphasizing mood lifting color to elevate the senses, and be indulged in immediately. Lightweight and seasonally appropriate, the result is a wardrobe that can take one from daily urban life, to a getaway in the warm sun.
The color palette is dominated by skin tones, with hues of pink, orange and red. There is also the presence of bright blue, blue green, and the essential black and white. The women's silhouette calls for pants in versions either high waisted or cropped, cardigan coats, skirts and sweaters, and tailored jackets, for a look that is relaxed, tapping into the masculine side. Materials are supple and luxurious, including soft lambskins in Nappa and suede, double faced cashmere, woolens, cottons and silks. Prints, bonding, pleating and appliqué techniques are also highlighted in the collection.
Bags focus on featherweight, signature softness and skin, with the significant presence of exotics in natural skin hues. For shoes, there are slip on sneakers in various material and craftsmanship, flat slip on sandals, and block heel sandals. The jewelry collection reveals an intriguing mix of signature sterling silver inset with faceted cabochons in bright silver and gold. The sunglass styles consist of an oversize cat eye shape, in metal and acetate.
"The starting point for Cruise is an energizing color palette intended to offset the seasonal weather, and the concern for not having to wait to wear clothes…The collection emphasizes relaxed clothing that can be worn right away, while indulging the wearer with their own experience to discover the details." says Creative Director Tomas Maier.