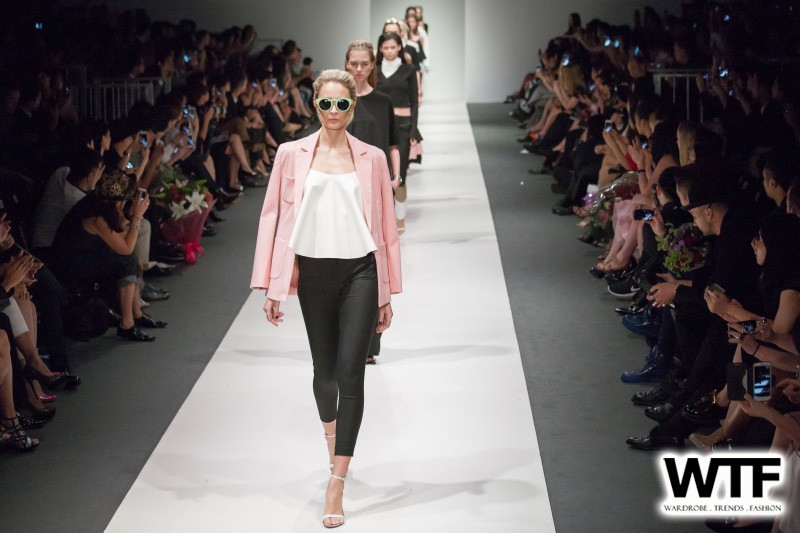 Who knew that a label on our home turf in the vein of Saturday and Ong Shunmugam at this year's Audi Fashion Festival 2014 would take on ice cream giant Haagen Dazs as a muse. Exhibit and Curated Editions presented their inaugural collections to a carefully orchestrated lineup of socialites and celebrities on Day 3 of AFF 2014.
Crediting the creamy flavours of the sweet sponsors, Exhibit took on a neutral colour palette reminiscent of scoops of glorious vanilla and chocolate – a delectable treat to the Asian skin tone. Whether it was colour-blocking or subdued accents, the luxe factor was dialed up as much as the minimalist slants. Bell sleeves, shift dresses, and clunky bangles were the flavour to die for; likewise, the clean almost clinical pieces exuded a softness – nothing rigid here.
Evening was similarly implied: a tiara for fashion royalty paired with a maxi dress that vaguely spells the ice (cream) queen cometh. Those arms were adorned with audacious metalwork that spangled under the spotlight. In other words, girls looking to pile on the glamazonian armour without the overstyled Wonder Woman getup will find sinfully delicious options to savour from both Exhibit and Curated Editions.
Photography by Ee Shuen