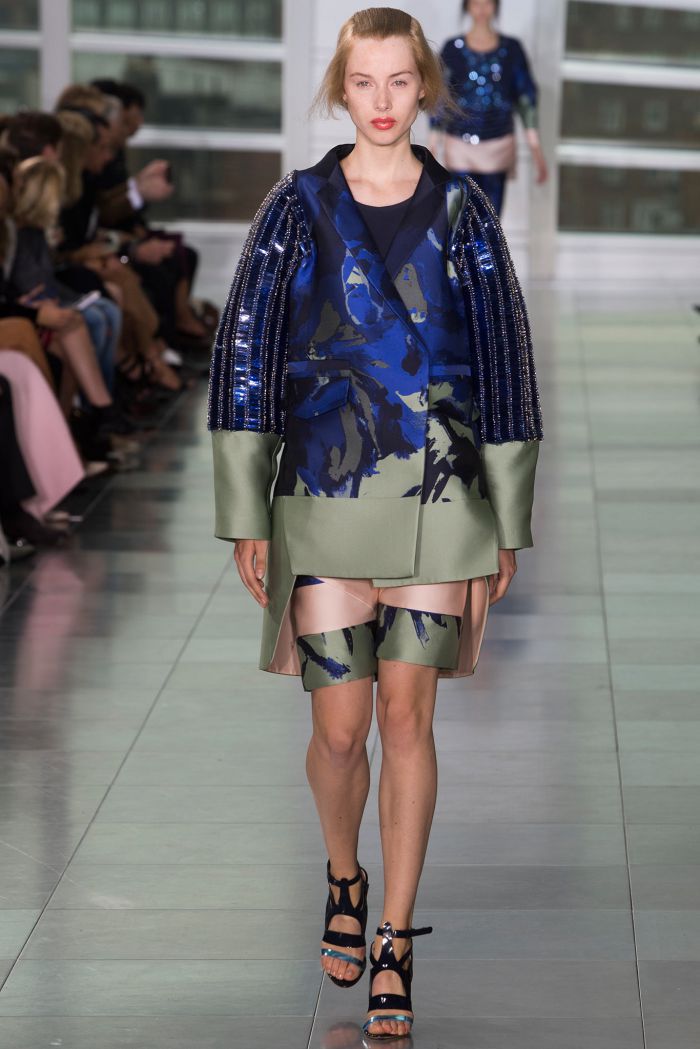 Never underestimate the power of a good zone-out in front of the tube. As Antonio Berardi explained before his show this morning, he found inspiration for his latest collection in a film, The Flowers of War, that he stumbled onto while flipping channels in Italy.
In the movie, Berardi said, Christian Bale plays a "charlatan" who, in the midst of the 1937 "rape of Nanking," winds up safeguarding women and schoolchildren in the church where he's pretending to be a priest.
The setup is worth detailing, because Berardi really did take quite a bit from the film, in particular the church atmosphere, with light diffusing through stained glass. There was a lot of saturated color in the collection, as well as prints—jacquards, in fact—that were suggestive of fractured light, an effect developed by glittery bead embroidery and iridescent finishes.
The prints were a mixed bag; pattern-wise, Berardi had more success with his tonal embroidery and painterly floral, both of which had an echo of chinoiserie. There was also a nod to the Chinese setting of Flowers of War in some sexed-up cheongsam-style dresses, and another nod to the church backdrop in nice-looking, squared-off blouses redolent of vestments.
But the film also proved a productive inspiration when Berardi interpreted it abstractly, expressing the innocence and evanescence of childhood memory.