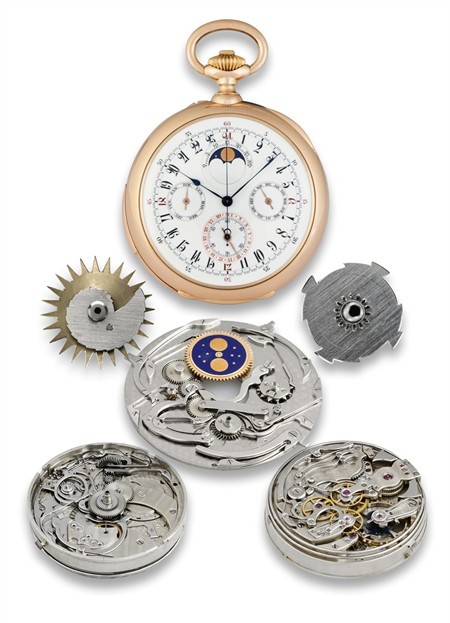 Antiquorum Auctioneers, the world's premier watch auctioneer, is holding an "Important Modern & Vintage Timepieces" at The Mandarin Oriental in Geneva on November 13. Amongst the exceptional highlights are a sublime Patek Philippe full 24-hour repeating, quarter and special-type five-minute repeating 24-hours in one revolution pocket watch (above). Originally sold to a Monsieur E. Hoesch of Mergellina, Naples in 1894 for 3750 Swiss Francs, the pocket watch is equipped with a perpetual calendar, chronograph, moon phases and lunar calendar. The original certificate of origin and Patek Philippe sales receipt are also kept in their originality.
Other Patek Philippe pieces on offer include the following: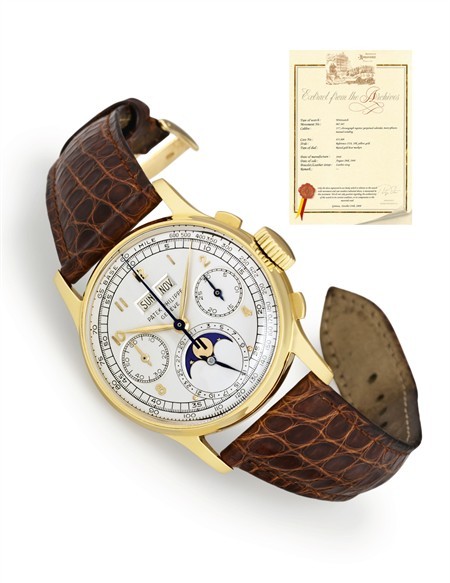 Made in 1948, the Patek Philippe ref. 1518, 1st Series is an extremely rare, 18K yellow gold gentleman's wristwatch with perpetual calendar, moon phases, square button chronograph, register and tachometer accompanied by the extract from the archives.
Originally sold on April 13 last year, the Patek Philippe "World Time," ref 5131G is a self-winding, water-resistant, 18K white gold wristwatch with world-time system and cloisonné enamel dial; offered alongside a fitted box, certificate of origin, booklets and hang tag.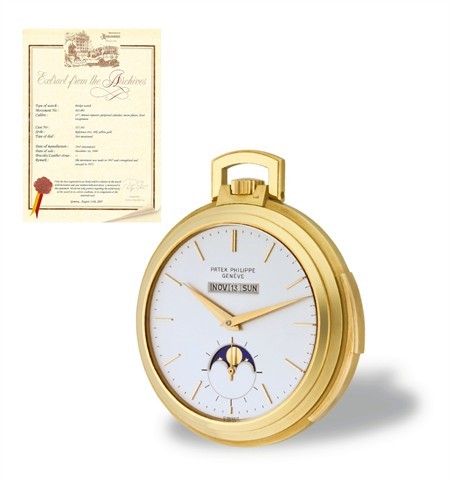 With the movement made in 1947, the Patek Philippe ref. 844 was completed and cased in 1973. Sold on December 1, 1980, the piece is an elegant, 18K yellow gold, keyless, minute repeating dress watch with digital "American" perpetual calendar and moon phases accompanied by the extract from the archives.