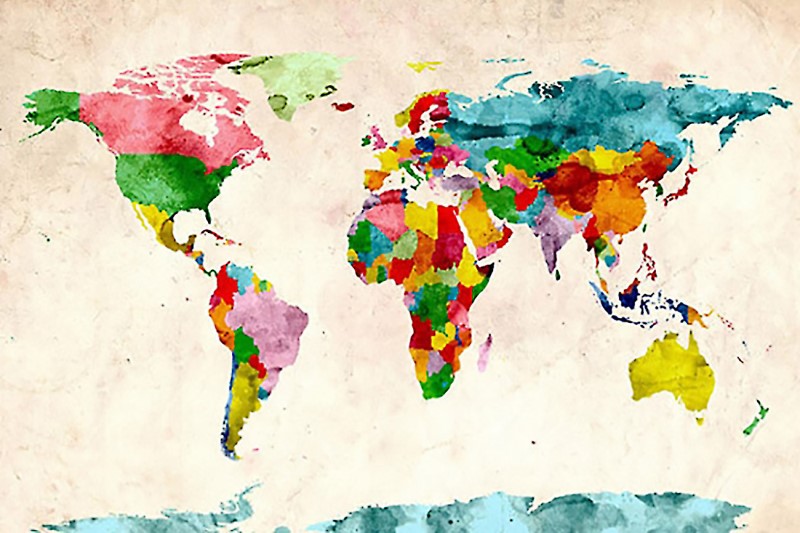 It's official, United States is the most entrepreneurial country in the world, according to the 2017 Global Entrepreneurship Index, conducted by Global Entrepreneurship Development Institute (GEDI), it remains the country with the most favourable conditions for entrepreneurs to launch startups and grow new businesses.
The index profiles the entrepreneurial ecosystems of 137 countries, from Albania to Zambia, Switzerland is in the 2nd place, followed by Canada, Sweden, and Denmark. As the American inventor Robert Metcalfe once said "Innovation makes the world go round. It brings prosperity and freedom."
It is interesting to see that in Asia, Taiwan is leading, followed closely after by Singapore and Japan. The country that is quickly rising up the ranks for entrepreneurship is India, which jumped 29 spots in the ranking to land in 69th place.
(Photo: Entrepreneur)
————————————————————————
2017 Most Entrepreneurial Countries In The World
| Rank | Country | GEI Score |
| --- | --- | --- |
| 1 | United States | 83.4 |
| 2 | Switzerland | 78 |
| 3 | Canada | 75.6 |
| 4 | Sweden | 75.5 |
| 5 | Denmark | 74.1 |
| 6 | Iceland | 73.5 |
| 7 | Australia | 72.5 |
| 8 | United Kingdom | 71.3 |
| 9 | Ireland | 71 |
| 10 | Netherlands | 67.8 |
| 11 | Finland | 66.9 |
| 12 | Germany | 64.9 |
| 13 | France | 64.1 |
| 14 | Austria | 63.5 |
| 15 | Belgium | 63 |
| 16 | Taiwan | 60.7 |
| 17 | Israel | 59.1 |
| 18 | Chile | 58.8 |
| 19 | United Arab Emirates | 58.8 |
| 20 | Luxembourg | 58.1 |
| 21 | Qatar | 58 |
| 22 | Norway | 55.9 |
| 23 | Estonia | 55.5 |
| 24 | Singapore | 52.2 |
| 25 | Japan | 51.7 |
| 26 | Slovenia | 51.5 |
| 27 | Korea | 50.5 |
| 28 | Lithuania | 49.6 |
| 29 | Portugal | 47.2 |
| 30 | Saudi Arabia | 47.2 |
| 31 | Poland | 46.6 |
| 32 | Hong Kong | 46.4 |
| 33 | Spain | 45.3 |
| 34 | Bahrain | 44.7 |
| 35 | Slovakia | 44.1 |
| 36 | Turkey | 43.7 |
| 37 | Oman | 43.6 |
| 38 | Latvia | 43 |
| 39 | Kuwait | 42.5 |
| 40 | Czech Republic | 42.2 |
| 41 | Puerto Rico | 40.6 |
| 42 | Tunisia | 40.5 |
| 43 | Cyprus | 38.5 |
| 44 | Colombia | 37.3 |
| 45 | Romania | 37.1 |
| 46 | Italy | 37 |
| 47 | Hungary | 36.3 |
| 48 | China | 36.3 |
| 49 | Greece | 34.6 |
| 50 | Uruguay | 34.6 |
| 51 | Barbados | 34.5 |
| 52 | Botswana | 34.4 |
| 53 | Brunei Darussalam | 33.9 |
| 54 | Malaysia | 33.4 |
| 55 | South Africa | 32.6 |
| 56 | Jordan | 31.7 |
| 57 | Azerbaijan | 31.1 |
| 58 | Costa Rica | 31 |
| 59 | Croatia | 30.8 |
| 60 | Namibia | 30.7 |
| 61 | Montenegro | 30.2 |
| 62 | Kazakhstan | 30.1 |
| 63 | Lebanon | 28.8 |
| 64 | Macedonia | 28.7 |
| 65 | Thailand | 27.1 |
| 66 | Ukraine | 26.9 |
| 67 | Peru | 26.8 |
| 68 | Panama | 26.2 |
| 69 | India | 25.8 |
| 70 | Morocco | 25.7 |
| 71 | Mexico | 25.7 |
| 72 | Russia | 25.4 |
| 73 | Algeria | 24.7 |
| 74 | Trinidad & Tobago | 24.6 |
| 75 | Gabon | 24.6 |
| 76 | Philippines | 24.1 |
| 77 | Georgia | 24 |
| 78 | Dominican Republic | 24 |
| 79 | Serbia | 23.1 |
| 80 | Albania | 23 |
| 81 | Egypt | 22.7 |
| 82 | Bulgaria | 22.7 |
| 83 | Argentina | 22.2 |
| 84 | Armenia | 22.1 |
| 85 | Iran | 22.1 |
| 86 | Ghana | 22 |
| 87 | Vietnam | 22 |
| 88 | Swaziland | 21.8 |
| 89 | Moldova | 21.3 |
| 90 | Indonesia | 21.2 |
| 91 | Ecuador | 21.1 |
| 92 | Kyrgyz Republic | 21 |
| 93 | Jamaica | 21 |
| 94 | Sri Lanka | 20.9 |
| 95 | Tajikistan | 20.7 |
| 96 | Zambia | 20.5 |
| 97 | Bolivia | 20.4 |
| 98 | Brazil | 20.1 |
| 99 | Bosnia and Herzegovina | 19.9 |
| 100 | Nigeria | 19.9 |
| 101 | El Salvador | 19.8 |
| 102 | Senegal | 19.7 |
| 103 | Rwanda | 19.6 |
| 104 | Libya | 19.2 |
| 105 | Lao PDR | 18.7 |
| 106 | Honduras | 18.2 |
| 107 | Kenya | 18.2 |
| 108 | Guatemala | 17.9 |
| 109 | Ethiopia | 17.8 |
| 110 | Suriname | 17.5 |
| 111 | Paraguay | 16.7 |
| 112 | Côte d'Ivoire | 16.6 |
| 113 | Belize | 16.6 |
| 114 | Cambodia | 16.5 |
| 115 | Gambia, The | 16.1 |
| 116 | Cameroon | 16 |
| 117 | Guyana | 15.9 |
| 118 | Tanzania | 15.8 |
| 119 | Mali | 15.6 |
| 120 | Myanmar | 15.6 |
| 121 | Liberia | 15.6 |
| 122 | Pakistan | 15.2 |
| 123 | Mozambique | 15.1 |
| 124 | Madagascar | 14.3 |
| 125 | Angola | 14.1 |
| 126 | Uganda | 13.2 |
| 127 | Benin | 13 |
| 128 | Venezuela | 13 |
| 129 | Nicaragua | 12.7 |
| 130 | Malawi | 12.5 |
| 131 | Guinea | 12.1 |
| 132 | Burkina Faso | 11.9 |
| 133 | Bangladesh | 11.8 |
| 134 | Mauritania | 11.6 |
| 135 | Sierra Leone | 11.4 |
| 136 | Burundi | 11.4 |
| 137 | Chad | 8.8 |