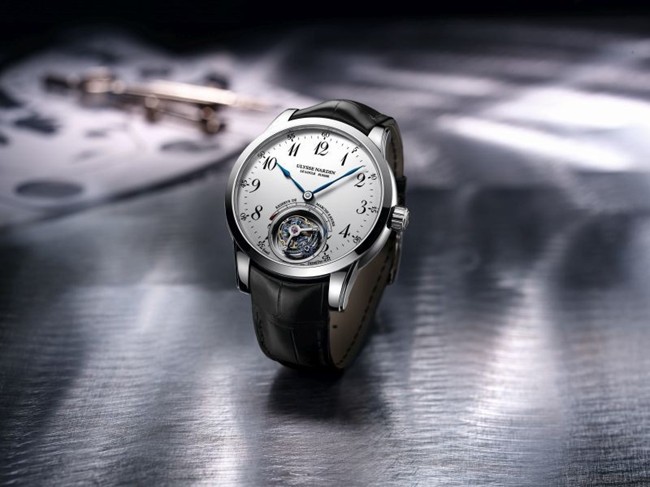 During the week of October 19, the Ulysse Anchor Tourbillon timepiece of Ulysse Nardin was awarded the Prize of the Year by the International Salon of Haute Horology (SIAR) in Mexico. It also simultaneously won the Prix Orologio dell'Anno 2015 assigned by the Italian magazine L'Orologio. During the 15th ceremony of the Grand Prix d'Horlogerie de Genève (GPHG) that was held at the Grand Theatre gathering hundreds guests, the international jury of recognized experts, collectors and watchmaking journalists crowned Ulysse Nardin with the Tourbillon Watch Prize for its Ulysse Anchor Tourbillon timepiece.
Available as a limited edition, the Ulysse Anchor Tourbillon is the quintessence of avant-garde mechanical technology. The outcome of eight years of research and development, the constant Ulysse Anchor escapement, made entirely of silicium, displays hitherto unknown architecture based on the principle of flexible mechanisms exploiting the elasticity of flat springs. This astonishing construction is housed in a 60-seconds tourbillon. Visible through a large opening in the dial at 6 o'clock, it is encircled by the indication of its power reserve of at least 7 days on a 140° arc. The caliber UN-178 is housed in a rose gold or white gold case. In tribute to innovation, each jury has honored the technological advancement of the Ulysse Nardin timepiece with its constant force escapement in silicium that revolutionizes the power transmission to the regulating system and improves the accuracy of the timepiece.
As Ulysse Nardin enters its 170th year, it does so as an imaginative futurist, uniting its exploratory nature with its expertise to clear the path for more inventiveness; innovative elements once reserved for milestone pieces are making their way into core collections.