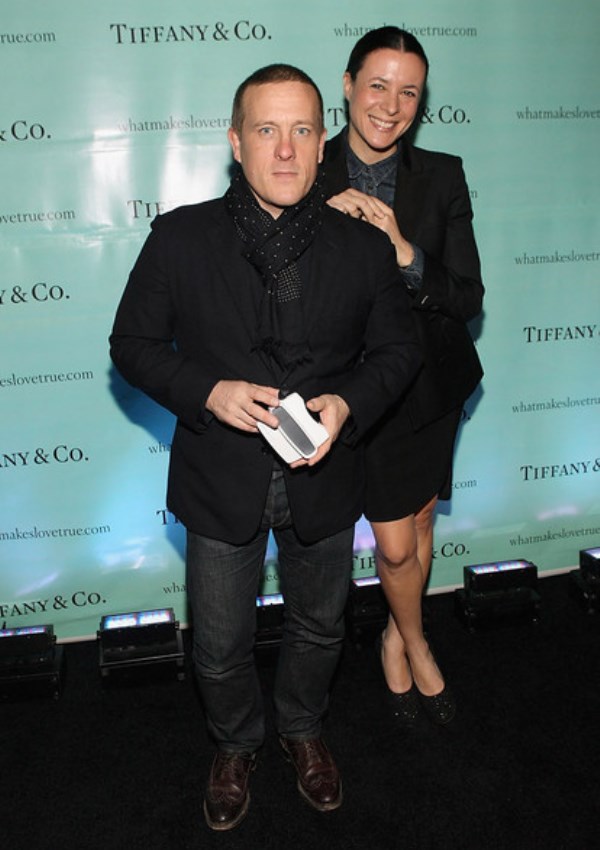 (Photo: Bennett Raglin/Getty Images North America)
To fête the launch of their 'True Love In Pictures' campaign with Tiffany & Co., Scott Schuman a.k.a. The Sartorialist and girlfriend Garance Doré hosted a swanky shindig at the legendary jeweler's Fifth Avenue flagship last night. DJ Solange Knowles spun old-school hip-hop tunes while models, socialites, and the who's who of New York's fashion crowd (those whose invites weren't retracted) came out to celebrate the amazing alliance.
Joining forces with a brand like Tiffany & Co. is a big coup for anyone, even for the globe-trotting street-style photo-blogging power couple, who collectively have collaborated with Gap, Burberry, Club Monaco, Moschino, and Kiehl's in the past. (Both their sites have been growing–we know this because they've posted several jobs listings on our site.)
Regarding how they pick and choose whom they partner with, Schuman says they have to be careful, since they won't shoot ads without their name attached to the project. "It's a different kind of collaboration because brands always want to have us involved," he revealed.
Doré on the other hand, explained that for her, it's more personal. "It's a mix of finding the right project and a connection," she said. "I always think, 'Are they going to understand our visions when we're working together?' I also think about what it is and if it feels natural in my life. 'Do I like this product? Would I wear this?' It's very simple actually."
Schuman believes the key to maintaining integrity is keeping church and state—better known as editorial and advertorial in this industry—quite separate. "We always make it very clear which posts are corporate projects," he rationalized. "When we put the pictures on our blogs, we give them the information they need to send them somewhere else—if they wanted to look at it."
Sponsored posts, product placement, and incessant brand name-dropping have quickly become de rigueur in the blogosphere, and if you enjoy reading through comment sections as much as we do, you'll notice bloggers being colorfully called out on it by their readers—especially when a collaboration doesn't quite seem to fit the blogger.
But of course, the benefits to corporate collaborations outweigh the risks by far. "The money we make from something like this helps us go to Morocco or Peru—I feel very comfortable with that," Schuman stated matter-of-factly. "These types of partnerships help our blogs grow in the sense that the projects help fund our continued independence."
For Schuman, independence means not having to work for major reputable glossies (gigs many bloggers would kill for). "I've been able to pull away from having to work with other companies," he told us. "I mean, I love GQ, but I don't have to work with GQ. I don't have to work with Style.com. Now I can just focus on the work that I want to do for the blog. And every once and a while, if I have to do a project on the side, that's great, because it's with great companies.
And in case you're wondering, as for what true love means to the twosome, "What I'm experiencing with Scott I think is true love," gushed an obviously enamored Doré. "It means trust, communication, and having fun together."
Mr. Schuman was short sweet and to the point: "Patience, understanding, and passion."