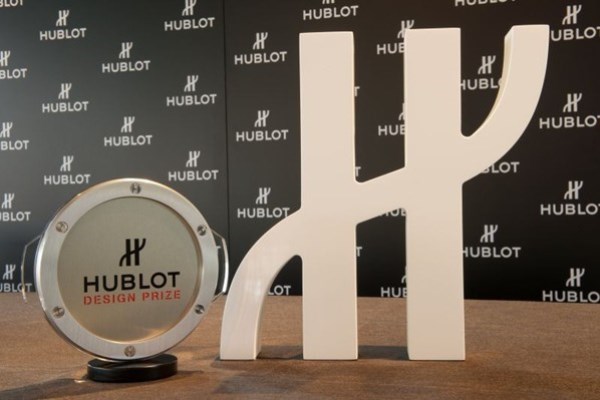 2015 is a special year for Hublot, as it marks the 10th anniversary of the iconic Big Bang. In just 10 years, the Big Bang has become an iconic watch design in Haute Horlogerie – a symbol of creativity and innovation. Hublot has decided to celebrate this 10th anniversary by looking to the future and giving the talented designers of tomorrow an opportunity to gain recognition. The Hublot Design Prize was created to enable young designers to assert themselves through their creations and to gain public recognition; as such, the prize will be awarded to the designer who distinguishes themselves through their boldness and creativity – just like the Big Bang.
They must also win over the panel of judges, composed of world-renowned experts in the field of contemporary design: Pierre Keller, Lapo Elkann, Ronan Bouroullec, Marva Griffin Wilshire and Professor Dr. Peter Zec. All the design competition judges were in Paris on April 27 for the launch of the Hublot Design Prize.
The aim of this competition is to award the Hublot Design Prize to a young, independent designer. After the design entries have been carefully examined, debated and discussed, the panel will choose their favourite designer in June. The prize will be awarded to the lucky winner during Tokyo Design Week in October.
Head Judge Pierre Keller, is the former Director of the Lausanne University of Art and Design, and he is also Chairman of the Board at the Centre for Contemporary Art in Geneva. Marva Griffin Wilshire is the founder and curator of the Salone Satellite, and the International Press Director of Milan's Furniture Fair (Il Salone del Mobile Milano), the part of the fair dedicated to showcasing young designers under the age of 35. Ronan Bouroullec is a rising star in European design and one of the most promising industrial designers in France. Lapo Elkann is an Italian entrepreneur and design expert. He is the former marketing manager for Fiat Automobiles and the Fiat Group and is currently the Chairman of LA Holding, Italia Independent and Independent Ideas. Professor Dr. Peter Zec is the founder and president of the Red Dot Design Award. For 25 years, Peter Zec has worked as a Design Consultant, collaborating with many companies in different countries worldwide. He has authored several books on brands and design, and he is also the editor of the Red Dot Design Yearbook and the International Yearbook Communication Design.