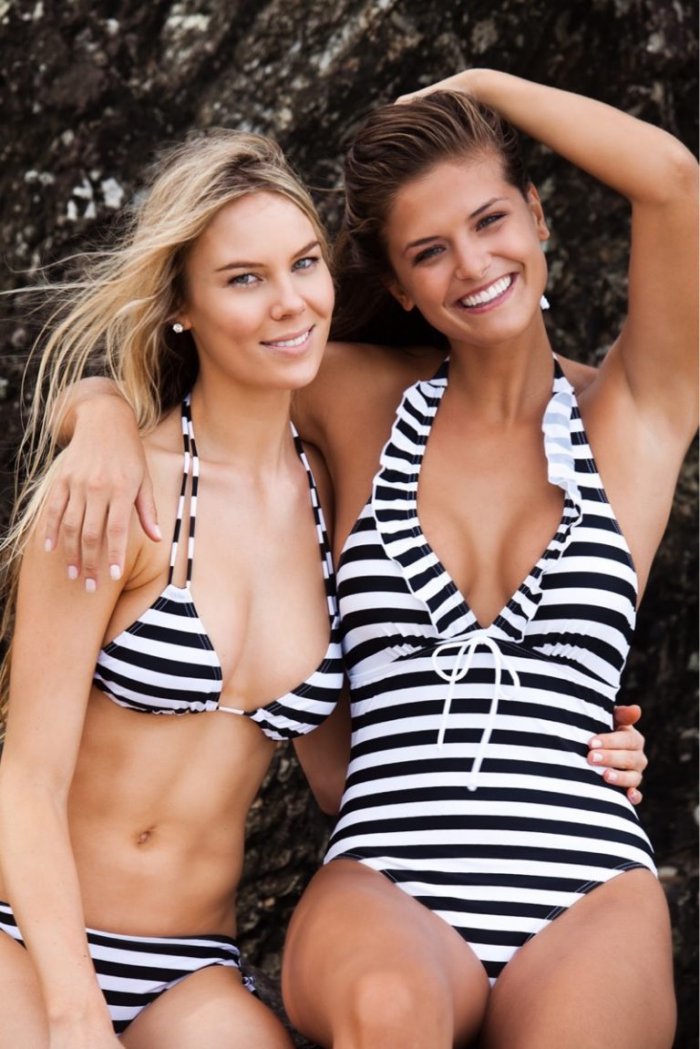 (Photos: Miracle Swim)
Spring is here and it's time to start designing a shift in your wardrobe that will see you through the wonderfully warm months to come. We hope a vacation is going to be part of your plans, but whether you can get away to a tropical isle or just day trip to a local beach, you want to look great in your swimwear.
The fashion runways for 2017 were filled with swimwear looks we haven't seen before as well as updated styles that brought a fresh twist to the traditional. You'll have a lot of choices to make, and there's really no way to go wrong.
ONE-PIECE CHIC
Things have changed a lot since a hundred years ago when bathing beauties were modestly covered from neck to ankle. But that doesn't mean a little restraint is old fashioned. Not everything has to be on display all the time, and particularly not when you want to look chic but control your curves at the same time. Miraclesuit's stylish swimwear has super-stretch fabric so you don't have to sacrifice style in order to look ten pounds lighter as soon as you put it on.
DEEP PLUNGES
Another reason to try a one-piece is that it's the way to plunge to new depths this season. Whether inset with mesh, or bare as can be, one-piece suits with deep plunges have taken inspiration from all the daring red carpet dresses this year and brought it to the water's edge.
VINTAGE HIPPIE
Boho is back, with the dreamy and feminine touches the free-spirited hippies brought to us. Adopt their breezy attitude with handcrafted details, fanciful patterns, embroidery, crochet, braiding, fringe, and natural elements like wooden beads, cowrie shells, stones, and feathers. You'll find these elements in one- and two-piece swimsuits, tunics, and cover-ups.
ROMANCE AT THE BEACH
Continuing the flurry of femininity, there are suits and cover-ups delicately embellished with flirty lingerie influences like lace, ruffles, flounces, and ruching, as well as bolder see-through sections. Bridal white is finally available this year, too, in looks from super sexy to demurely come-hither. If you're going to be a summer bride, one of these suits is a must to pack for the honeymoon, even if it never leaves the boudoir.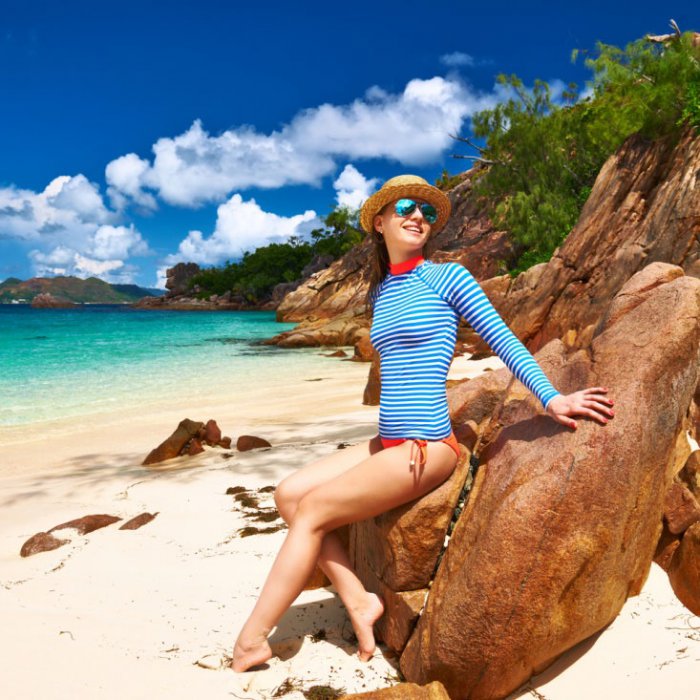 ATHLETIC IN STYLE
You can be fashion forward and still be comfortable and protected as you surf, swim, snorkel, paddle board, or train for a triathlon. Style has come together with sport technology and its innovative and intelligent textiles and streamlined looks. You'll find brightly patterned full-coverage long-sleeve tops paired with bikini bottoms and also in one-piece styles. Wear them as rash guards in the water or as sun protection on the sand. And so what if you can't spike a volleyball to save your life.
HALTER BIKINIS
Hate to say it, but the triangle top is sort of been there, done that. The new top this year is the halter, either cropped or tankini style. It makes a statement with sheer inserts, crocheting, cut-outs, tassels, fringe, or other details, and honestly, it's more comfortable than a triangle. Pop on a skirt, shorts, or jeans, and the halter goes out on the town, too.
STRAPS AND MORE STRAPS
Whether it's lace-up lingerie looks, bottoms with lattice sides, or simple decorative strips across the midriff and waist, strappy elements are in. Depending on the suit, they can be a little bit bondage, a little bit punk, or just straight out seductive.
CLEVER COVER-UPS
These aren't the kind of cover-ups that get you into trouble. In fact, this season's wraps, ponchos, sheer pants, long-sleeve shrugs, openwork mesh tops, and flowing caftans make you just legal enough so you stroll right off the beach for some local shopping and dining. Designers have come up with a raft of great looks, so be sure to add a cover-up or two or three to replace that sad t-shirt you've been using. Your new swimsuits surely deserve a better companion than that.
With so many choices, you may find yourself wanting a whole new swimsuit wardrobe. (Is anyone going to stop you?) But whichever suits you select for the upcoming season in the sun, don't go out without sunscreen.