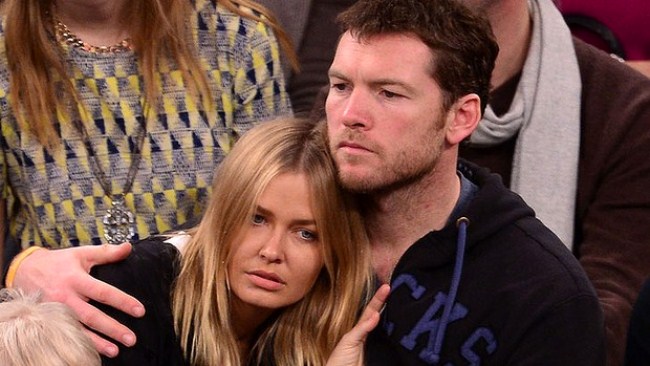 (Photo: Lara Bingle and Sam Worthington at the Oklahoma City Thunder v New York Knicks basketball game at Madison Square Garden in New York City last December.  |  Source: Getty)
Actor Sam Worthington has been arrested in New York for allegedly assaulting a photographer.
In footage of the incident, Worthington is seen asking police if they are familiar with "you know, the movie Avatar" before being guided into a police car.
The footage also shows his girlfriend Lara Bingle, who Worthington refers to as his ''wife'', attempting to grab the photographer's camera before Worthington intervenes.
The couple then confront a growing pack of onlookers, the footage obtained by Channel Nine shows.
According to reports, the fight happened at Cubbyhole Bar, after a photographer allegedly kicked Bingle.
Police charged the 37-year-old Avatar star with assault for allegedly punching the photographer in the face.
"He has been charged with assault. He punched the photographer."
Worthington was released on bail.
The photographer was charged with assault, reckless endangerment and harassment.
This is the second time Worthington has been arrested. He was charged with disorderly conduct when he was denied entry to a restaurant in Atlanta in 2012, but charges were later dismissed.
He apparently got into an argument with the doorman, after being refused entry because he was "intoxicated" and lacked proper identification.
TMZ reported that witnesses saw Worthington push the doorman twice, before the doorman sprayed him with capsicum spray.
(Source: Getty)
Bingle and Worthington flew to New York this month for fashion week, but there are reports that the pair are likely to stay long term.
Bingle told a Woman's Day photographer last month that she wanted to quit Australia for good because Worthington hates the paparazzi.
The 26-year-old model also told photographer Ben Watts on Instagram that she was "here to stay", when he asked if she was in New York.
Bingle and Worthington started dating in September last year and have spent a lot of time travelling to places including Paris, the Maldives and Western Australia.
The model is apparently due back in Australia in March to promote her new Cotton On Body Collection, according to a spokesperson.
Bingle might have to return to Australia alone, though.
Worthington begins filming his next movie Alive Alone in New York in March.