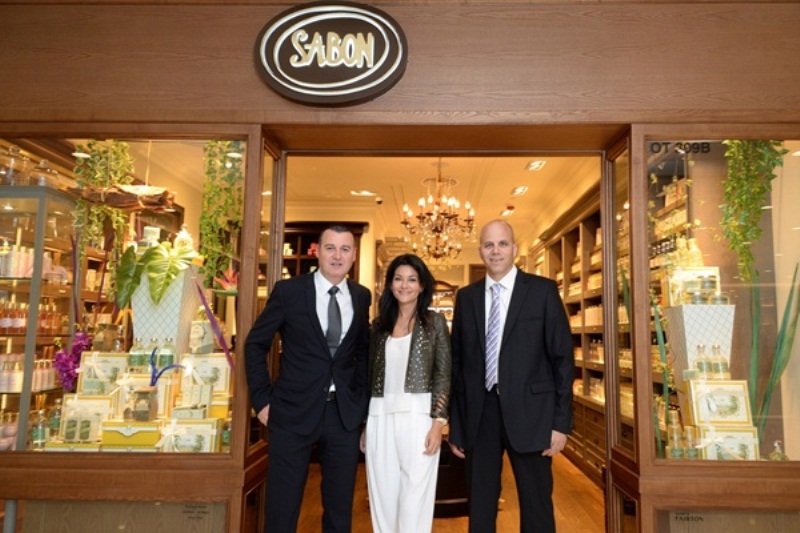 Luxury Israeli body care and home fragrance brand Sabon makes its entrance into Greater China, opening its first standalone store in Harbour City, Hong Kong.
To welcome the brand to Hong Kong, an inauguration event was held at the store. Sabon founders Avi Piatok and Sigal Kotler-Levi, and CEO Ronen Zohar joined Hong Kong celebrity Janis Man, Canis Lee, Assistant Director and General Manager of Retail Leasing, Harbour City Estates Limited and David Chung, Executive Director of Fairton International Group.
Sabon launched in 1997 to much aplomb; the brand is a long-standing favorite of Hollywood stars such as Julia Roberts, Keira Knightely, Kristin Davis and Julianne Moore. The brand stocks a range of home spa products, soaps, fragrances and bath products, and Sabon's fragrances have long been the favorite of many around the world. The Tsim Tsa Tsui store was designed with elegance and simplicity in mind – with wood furnishings in calming hues and warming aromas, it is reminiscent of one's home and offers customers a peaceful sanctuary from the hustle and bustle of Hong Kong.
"I love home spa. It gives a total-body-mind experience of pleasure and a loving skin-nourishing feeling! SABON's hottest item PLV body scrub is my favorite as it contains Dead Sea Salts and works exceptionally well in exfoliating the skin yet leaving it smooth and silky," says Janice Man about the brand. "Most places in Hong Kong have air-conditioning which dries out ones skin. I tend to choose highly moisturizing body care products at home. I love wood scents and have a habit of using musk shower oil and body lotion every day. I am also very fond of home fragrances. I have Sabon's Amber aroma in my bedroom. It has a soothing effect and ensures I get a good night's sleep!"