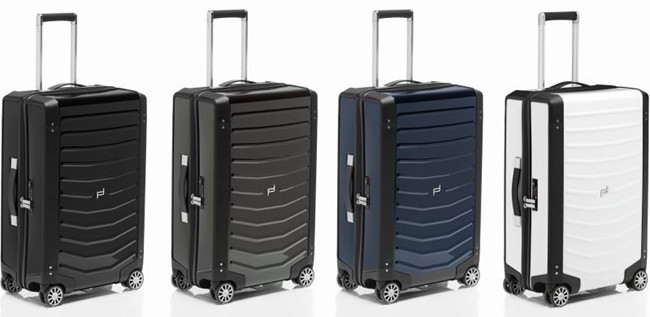 Porsche Design has expanded its immensely successful "Roadster" softcase travel luggage collection with a new highlight, launching a hardcase line. The "Roadster Hardcase" series embodies Porsche Design's high quality standards combined with technical highlights and striking design elements. Inspired by the sports car, the new Roadster models come with integrated side impact protection as a standard. The result is a perfect accessory for the sophisticated traveler.
The exceptional polycarbonate exterior features striking contours, outlining the "Roadster Hardcase's" sporty elegant character. An adjoined frame provides for stability and additional impact protection. The lightweight, brushed aluminum rods slot into the different setting levels with precision that can be felt, providing maximum stability with minimal weight. The ergonomic handle increases travel comfort. Four double-bearing wheels guarantee even rolling and turning. They provide for extremely quiet, smooth rolling over any terrain. The integrated TSA lock guarantees hassle-free travel in the USA.
The interior design of this first "Roadster Hardcase Series" generation was reduced to the essentials: Two large main compartments with an integrated net separator guarantee that the items will be easily and securely stored.
"With this expansion, we are looking to enhance our expertise in sporty elegant bags and luggage lines, thereby reinforcing our position as the most desirable sports lifestyle group. Once again, we are leveraging technical innovation, superb design, and exceptional quality," says Dr. Christian Kurtzke, Chief Executive Officer & President of the Porsche Design Group.
The new hardcase series is now available worldwide in Porsche Design in four colors – white, black, dark blue metallic and grey metallic, and sizes S, M, and L. The suitcases retail for US$665 to US$725, depending on size.