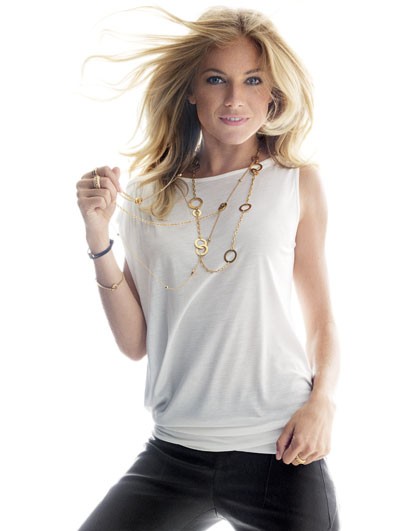 Swiss jeweler and watchmaker Piaget celebrates 20 years of the Possession collection with Sienna Miller, the new face of the collection. Piaget describes the star of G.I. Joe: Rise of Cobra and Alfie as the "ultimate woman of today and the perfect choice to embody one of Piaget's most successful jewelry collections ever." Miller is also well known for her role offscreen as a global ambassador for International Medical Corps, one of the leading lights in the ongoing Haiti relief effort.
For their first partnership with Miller, Piaget went gangbusters on the creative talent. The brand enlisted photographer Raymond Meier, stylist Elissa Santisi, Gucci Westman for makeup, hairstylist Esther Langham and manicurist Jin Soon. Of course, we would argue that just Sienna and the new Possession ring – featuring a chain for the second interlocking ring this time – make for a pretty picture.
In any case, Piaget is showcasing a variety of different looks for this campaign, featuring the flexibility and fashionable nature of the Possession collection. The brand has released this first shot, of Miller in a white top and leather pants as a teaser.
Watch out for the behind-the-scenes video on Piaget's web site, Facebook site and on youtube.com. For now, enjoy a series of new images celebrating the Possession collection but note that Miller is obviously not the model in the tattoo shot (the last photo below).