The 2010 Panerai Classic Yachts Challenge recently lit up Antibes & Cowes, the second and third stops respectively in the classic yacht racing circuit.
Encompassing nine events worldwide including the Antigua Classic Yacht Regatta and the Régates Royales, Cannes; the Panerai Classic Yachts Challenge is now in its sixth year and welcomed two new additions for 2010 – the Classic Yacht Club Cowes Regatta (UK) and the Corinthian Classic Yacht Regatta Marblehead, (USA).
The Antibes leg of the circuit, the 15th edition of Les Voiles d'Antibes, closed on June 6 with the boats Mariska, Rowdy and Chaplin triumphing in the "Big Boats", "Vintage" and "Classic" categories. As is customary throughout the series, the winners received a Radiomir Regatta 1/8th Second Titanio – 47 mm watch, specially created by Officine Panerai for the new season. It is being produced in a series of 500 pieces (above).
Meanwhile the stage held at the Royal Yacht Squadron in Cowes from July 18-24 was attended by more than 200 owners, captains and crews from the fifty two boats competing in the regatta.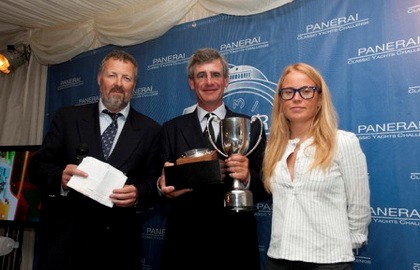 The overall first prize went to Cetewayo while the Lallow Cup for best-presented new entrant went to the 1898 Gaff Cutter, Kismet. In contrast The International Metre Trophy for the highest placed Metre Boat was awarded to Wings; The Brian Keelan Memorial Trophy for the highest placed Gaffer went to Jap; and the Universal 8 Cup for the highest placed 8 Metre went was awarded to If.
Adam Gosling, Chairman of the BCYC Regatta Committee said: "It couldn't have gone better really. We've had fantastic weather, the racing has been as tight as ever and the quality of the boats has been even better than usual.
Panerai are a great sponsor and have brought more style to the event which has allowed us to improve the quality of the onshore activities in particular. In terms of future aspirations, we believe the secret is quality not quantity. The sailors will tell you, they love this event and they love coming to Cowes."
Amongst the classic yachts present at the events (though not participating in the regattas) was Eilean, a 22-metre Marconi ketch built in 1936 by Scottish boatyard Fife.
The boat (above) was purchased in 2006 by Officine Panerai and underwent a complete restoration at the Francesco Del Carlo boatyard in Viareggio, Tuscany.