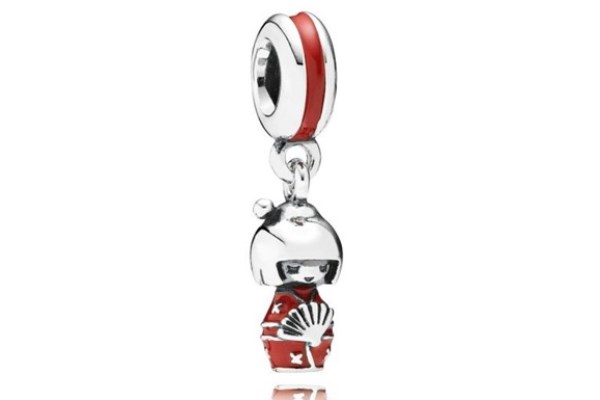 Pandora has introduced two new charms to its Autumn Winter 2014 collection. The two Asian costume doll charms, that are carefully hand painted, represent two of Asia's popular cultures from Japan and Korea. Launched as part of the Danish jewelry company's latest collection for this year, the two doll charms will soon welcome a third member into the group – a Chinese doll charm will be introduced in 2015 in lieu of the upcoming Chinese New Year.
Pandora's Japanese doll charm is inspired by Japan's Kokeshi doll. The traditional Kokeshi doll was originally a simple wooden doll and represented a wish for a healthy child. Today, the dolls have evolved to become more decorative, with finely painted kimono details, and are now said to ward off evil and prevent fire. Pandora takes the modern approach, with its Japanese doll charm featuring a vibrant red kimono and holding a fan offering a whimsical touch to your charm collection.
The Korean doll charm is inspired by the cute and feminine Korean Gaksi doll that represents beauty and purity in the traditional Korean culture. Dressed in adorable pink, Pandora's Korean doll charm features the delicate hand applied enamel details – a century-old craftsmanship skill in the world of jewelry making.